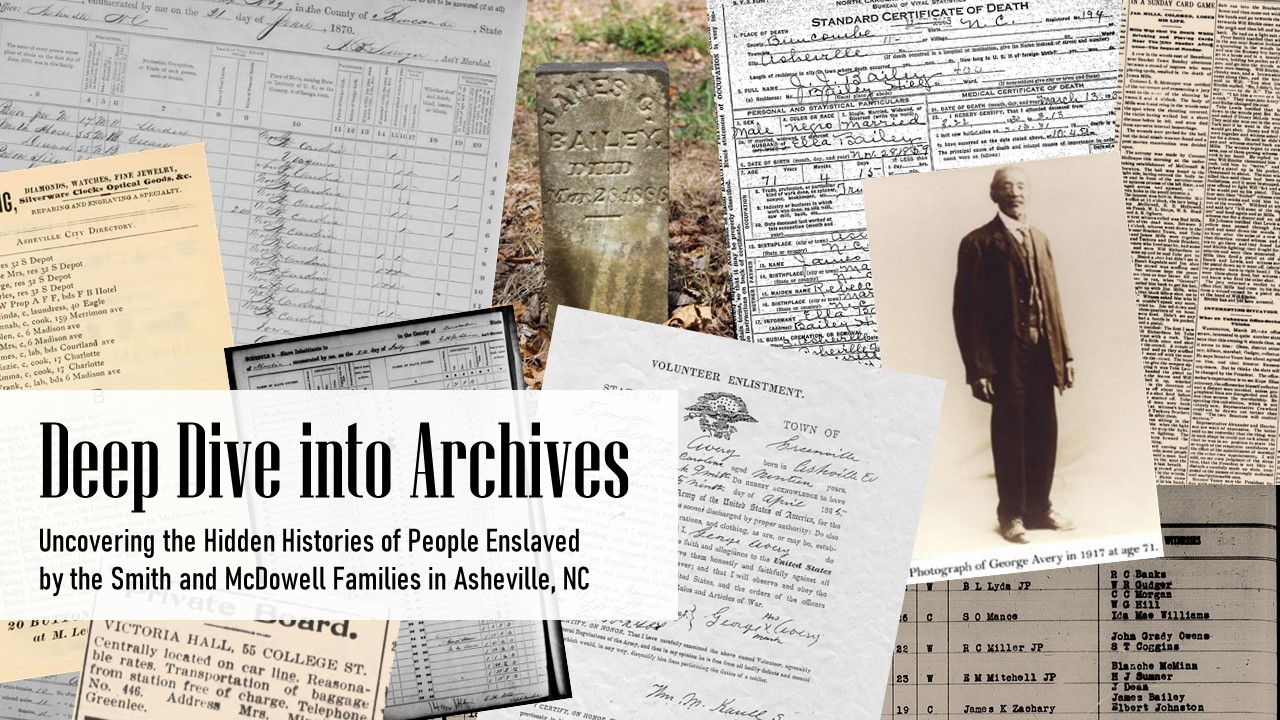 Though well over a hundred people were enslaved by the Smith and McDowell families and many of them worked in our facility – then known as Buck House – and on its grounds on a day-to-day basis, until embarking on this project in 2020 we knew very little about their individual identities.
Enslaved African Americans were not allowed to learn to read or write, and white historians rarely recorded their stories – or even their names. The census only records the sex and age of enslaved people and, most often, their names were only written if/when they were sold or inherited.
This is a living exhibit.
By utilizing documentary, archaeological, and oral source material, we will continue to work to piece together more stories of those held captive by the Smith and McDowell families.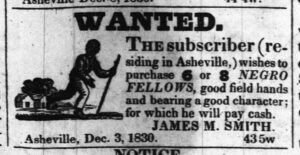 People Enslaved by the Smith and/or McDowell Families
Listed here are the names of some of the people who were enslaved by the James M. and Polly Patton Smith or William W. and Sarah Lucinda Smith McDowell families – and, in some cases, both.
Their names were found in James M. Smith's Last Will and Testament, in Bills of Sale, in newspaper advertisements, and in court records.
Scroll down for more information on each individual.
Note: Because children inherited the status of their mother – i.e. children born to an enslaved mother and a free father would be enslaved – children were often listed alongside the name of their mother.
BOB
LUCY ANN
MILES
LUCY
HARRIET
WILLIAM
LURAN
JOHN
QUILLAN
ALLEN
CHARLES
SANDY
TOM
TILDA
JOE
ALFRED SPEARS
JOE JR
MARY
JANE
VINA
BEN RAGSDALE
PHILLIP SMITH
JULIUS RAGSDALE
BOB SPEARS
LIDIA SPEARS
CATHERINE
ALEXANDER SY
CAROLINE SPEARS COPE
GEORGE MORRIS
LOUISA MORRIS
WILLIAM MORRIS
BOB HARDIN
BETSEY
MOSE
PETER
CHARLES
ROBB
JEFF
MARY
SAMUEL
MARTHA
HENRY
ALFRED WALKER
JULIA ANN
McCAMA
GEORGE
REBECCA BAILEY
CHARLOTTE BAILEY SCALES
JAMES BAILEY
HARRY
ROBERT
LIZZIE
GEORGE AVERY
TOM
SUKEY
ROBESON
ANDERSON
SAM
MATILDA
ALIX
LIVE
CAMPBELL
HARRISON
ZYLPHA SMITH
To view the research into each person and learn more about their lives during and after emancipation, click on their names below.