Hike with a Historian –
Explore History Where it Happened
Sometimes the best way to learn is to see and experience the places we discuss. Partnering with local historians and researchers, AMoH frequently leads outdoor hikes (and occasional paddles) to and along historic places and routes within western North Carolina. These range from easy, 2-mile walks to strenuous 6+ mile hikes. These programs include forests, cemeteries, forgotten roads, high peaks, storied rivers and more! We often follow our book or lecture events with these outdoor excursions, giving guests and members opportunities to explore subjects in multiple ways. We hope to see you at these outings!
Prices vary for these events (paddles may cost more) with AMoH members receiving discounted rates. No-cost community funded tickets are also available thanks to donations.
See our event calendar for more specifics and registration links.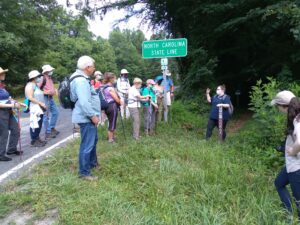 What To Expect:

Outings are led by a guest historian/speaker or the AMoH public programs director.
Participants are asked to fill out a liability waiver and provide emergency contact information.
Outings sometimes require cooperative shuttling in vehicles.
We love pets, but not all events allow for them.
Occasionally parking arrangements and dates change due to weather or other factors. We stay in contact with registrants and notify them of any changes prior to the event.
Hikes With a Historian: Ray Mica Mine
September 20, 2023
On this early fall day, we were grateful to have Dr. William Miller (UNCA emeritus professor of environmental studies) lead us on a short hike to the former Ray mica mine near Burnsville. Many of the deep pits and tailings from the mica extraction are visible, as are countless specimens of the transparent mineral scattered all throughout the area. We learned about the ancient geologic forces which shaped this section of the Appalachians millions of years ago and the social history of mining in the area in much more recent times. We hope you'll join us for more hikes and outings in our Hikes With a Historian series in 2024!
Hikes With a Historian – Cemetery Series: Quaker Meadows Cemetery and Frankie Silver Grave
Sep 13, 2023
The final event in our 2023 Cemetery Series explored some of the most politically influential/connected families in the foothills during the last decades of the 18th century as well as one of the most famous murder trials in WNC history. We were guided through the Quaker Meadows Cemetery (started by the McDowell family) by a docent from Historic Burke Foundation. We then travelled several miles from Morganton to see the supposed grave of Frances "Frankie" Silver, hanged for murder in 1833. A big thanks to all who attended this and other events in our series!
Hikes With a Historian – Cemetery Series: Ashworth Cemetery and Sherrill's Inn
Sep 6, 2023
The second event in our 2023 Cemetery Series explored the early push of settlers into and over the Blue Ridge right after the American Revolutionary War and new treaties with the Cherokees. We looked at the arrival of African-descended enslaved people into the region, land speculation and continued migration, the early road and stagecoach network, and also the legends of healing women or mountain witches, putting some names to those bigger patterns.
We were also lucky on this tour to have several descendants, community members, and stewards of the land join us and share some of their own oral history passed down to them. Oral history like this is invaluable to understanding places and people which/whom were not typically documented.
Read more and see related maps and primary sources at the link below.
Hikes With a Historian – Cemetery Series: Brittain Church and Biggerstaff Hanging Tree
Aug 30, 2023
Led by public programs director Trevor Freeman, the museum kicked off our second season of the popular cemetery tour series near Rutherfordton at the Brittain Presbyterian Church graveyard and nearby Biggerstaff Hanging Tree site. Guests explored the graveyard of the first WNC church, with the earliest known graves dating to the 1780 battle at Kings Mountain. We also trekked a short trail at a nearby spot where 9 Loyalists were executed and unceremoniously buried after the same battle. Read more and see related maps and primary sources at the link below.
A big thanks to participants Kim Leatherwood and Kieta Osteen Cochrane for sharing photographs!
French Broad Paddle w Conserving Carolina and MountainTrue
July 7, 2023
At the last recreational event in Conserving Carolina's 5-part French Broad River Series, we partnered with them and MountainTrue to take guests on an interpretive paddle through one of the busiest and most historic sections of the river. Led by the AMoH public programs director, guests explored the environmental history of the larger French Broad watershed through the specific lens of this 6 mile section – the crossroads of the river. We also enjoyed wildlife along the way including herons, cormorants, and otters!
A big thanks to our participants and partners for sharing photographs!
Ellicott's Rock Hike
March 18, 2023
On this chilly late-winter day, we explored the history of the tri-state border region and the 35th parallel. Contested by the Cherokee and settlers, and later the states of NC, SC, and GA, the "orphan strip" and Walton County were a brief but fascinating part of WNC history. We made our way to the Chattooga River to search for the boundary-defining survey markers that finally put to rest the tensions and defined this area as part of North Carolina. Of course, we also had to discuss the Chattooga's connection to a pervasive regional stereotype as the filming location for the film Deliverance.
A big thanks to our participants for sharing photographs!
Loyalists and Rebels: Mountaineers and the Battle of Kings Mountain
October 8, 2022
It was a beautiful fall day to hike a section of the Overmountain Victory National Historic Trail to Alexander's Ford near the Rutherford/Polk County border. Led by our public programs director, guests learned about the 1780 Battle of Kings Mountain in the bigger context of divided loyalties in the WNC foothills and mountains during the American Revolutionary War. We paid particular attention to the stories of Loyalists (or those accused thereof) and their plight during and after the conflict. On the way out, we learned more about an adjacent cemetery, likely where unidentified enslaved people were buried, and Gray's Chapel, named after a participant at Kings Mountain.
A big thanks to one of our attendees (LaBar) for sharing photographs!
Cemetery Series: Guastavino Estate Ruins and Cemetery Tour
September 28, 2022
Our Hikes With a Historian: Cemetery Series concluded with a tour of the Raphael Guastavino estate ruins and an a nearby common cemetery on the grounds of the Christmont Assembly led by AMoH Executive Director Anne Chesky Smith. Guests learned about the Guastavino family's emigration from Spain to America, his renowned tile work, and the plight of his estate and working farm near Black Mountain. We also enjoyed a short hike to a nearby cemetery where at least ten local residents were buried and marked with fieldstones. We had fantastic turnout for this series and want to thank all who participated!
Cemetery Series: Hot Springs Cemeteries
September 21, 2022
Our Hikes With a Historian: Cemetery Series continued Wednesday, Sep 21 with a tour of four cemeteries in Hot Springs, NC. We were joined by Taylor Barnhill of the Appalachian Barn Alliance and by two local residents who shared stories and great insights about the places we visited. We learned about the history of Hot Springs through the burial sites we toured, including the confinement of 2,100 German internees during the First World War and the burial/reinterment of 26 in the Odd Fellows Cemetery. We greatly appreciate the special access to several of these interesting sites!
Cemetery Series: Absalom Dillingham Cemetery
September 14, 2022
The second event in our cemetery series, guests toured the Absalom Dillingham Cemetery in Barnardsville. A great example of one of the earliest community cemeteries in the region, this cemetery also contains a historically Black section where individuals enslaved by neighboring families and later descendants were buried. Guests learned more about those buried here, traditions related to cemeteries, death, and burial, and about the lives of African Americans living in rural areas before and after the Civil War.
Cemetery Series: Newton Academy and South Asheville Cemeteries
September 7, 2022
Our four-part cemetery series kicked off in early September with a great turnout. Guests learned about the Newton Academy and South Asheville cemeteries' connections to the Smith-McDowell House and the free and enslaved families who lived there. We then toured the historically Black South Asheville Cemetery. A big thanks to Dr. Ellen Pearson and David Quinn of the South Asheville Cemetery Association who discussed this cemetery and its recent restoration. the GPR and genealogical research which has identified over 2,000 burial locations, and the stories of known people buried there.
Tour of Mars Hill Anderson Rosenwald School
August 6 and 20, 2022
Nearly thirty guests joined us for these two tours of the restored Mars Hill Anderson Rosenwald School. Built and operated with funds from Julius Rosenwald and the local community, and owing to an idea by Booker T. Washington, this school for African American children in Madison County operated from 1928-1964. After falling into disrepair, the school has been lovingly restored by alumni and local community members and now serves as a museum and educational center. Attendees also visited the nearby gravesite of Joe Anderson, a man once enslaved in Mars Hill and the namesake of the Rosenwald School. A big thanks to the Friends of the Anderson Rosenwald School who shared stories of the school and its students, as well as the restoration process!
Juneteenth Hike
June 19, 2022
In this special outing, WNCHA partnered with Chimney Rock State Park to lead a hike exploring the history of slavery and emancipation in WNC as well as the Hickory Nut Gorge. In this free public hike, participants learned about the development of slavery across the region as well as the self-emancipation of numerous individuals before the Civil War, including the oral tradition that the Gorge served as an Underground Railroad route. We explored how freedom came to those enslaved in WNC during the war, and the fight for rights, equality, and safety afterward. Lastly, we traced the history of Juneteenth and other emancipation celebrations from Texas to WNC.
Rumbling Bald Hike
May 7, 2022
On this 1.5 mile hike, the group explored the 1874 rumblings underneath several mountains on the eastern end of the Hickory Nut Gorge. We traced the media coverage of the event, the route of an investigating geologist, and the wild speculation, rumors, and stereotypes that emerged from what many believed was a volcano set to erupt. We were also permitted to see evidence of the geologic activity common to this part of WNC, exploring fissures and rock falls at "Rumbling" Bald Mountain. A big thanks to Chimney Rock State Park for their assistance!
Big Ivy Outing
September 25, 2021
On this early-fall day, WNCHA led a tour of the Big Ivy Historical Park in Barnardsville. We climbed the restored Little Snowball Mountain lookout tower and toured restored early-1800s log cabins which once belonged to the Carson family. After a quick lunch, WNCHA public programs director Trevor Freeman also delivered an interpretive presentation to the group looking at Big Ivy in terms of Appalachian stereotypes, and exploring the competing trends of forest commons and outside land holding which are crucial to understanding this historic community. We were lucky enough to also meet the local man responsible for saving the tower and restoring it to its former glory.
French Broad Paddle with Montreat College
September 11, 2021
We revived our interpretive paddle trip down one of the most historic sections of the French Broad River, paddling from the mouth of the Swannanoa River to the Woodfin Dam. This 7-mile outing passed by several bridges, many of which were destroyed during the Flood of 1916. Led by WNCHA's public programs director, the group discussed Cherokee and early settler activities along this stretch, the Mountain Lily steamboat, industrialization, floods, pollution, and activism to protect this vital river. Montreat College's Outdoor Recreation Studies were instrumental, providing rafts, canoes, and safety/paddle guidance.
Buncombe Turnpike Hike
August 7, 2021
On this beautiful day, we were joined by Lauren May of the Vance Birthplace State Historic Site who interpreted the history of the pivotal Buncombe Turnpike on this 2-mile hike. We travelled along the Palmetto Trail to the NC/SC state line, where the Buncombe Turnpike began in the Saluda Gap. Trevor Freeman of WNCHA then addressed the two other famous events at this site: the 1827 Vance-Carson duel and the establishment of the Happy Land Kingdom after the Civil War. We saw plenty of flowers and mushrooms along the way.
Hickory Nut Gap Hike
May 22, 2021
In this special hike, we partnered with Conserving Carolina, a local land trust, who allowed us to use a special section of their trails in the Hickory Nut Gorge leading up to the beautiful Blue Ridge Pastures. WNCHA Public Programs Director Trevor Freeman interpreted the natural and cultural history of this famous gorge, exploring Native Americans, early white settlers, slavery, tourism, livestock drovers, and the incarcerated laborers who constructed the winding road. The hike was strenuous, but the views were well worth it.
RAIL Hike on the Point Lookout Greenway
Sat/Sun April 17&18, 2021
In two hikes along the Point Lookout Greenway, historian Dan Pierce and Marion Mayor Steve Little interpreted the history of the Western Carolina Railroad and the incarcerated laborers who toiled to complete the winding loops leading to the Swannanoa Tunnel. Both men are part of the RAIL Memorial Project raising funds to erect a monument to those predominantly African American laborers at nearby Andrews Geyser.
DuPont Forest Hike with Danny Bernstein
March 20, 2021
Author and hiker Danny Bernstein, who literally wrote the book on DuPont State Recreational Forest, led participants on a 7-mile hike along the cutovers, creeks, waterfalls, and numerous lakes of this special place. We saw three lakes, the spectacular Bridal Veil Falls, and the abandoned airstrip as Danny discussed the people who both created and saved this popular area of public land.