Recap and Notes for Quaker Meadows and Frankie Silver Grave
Trevor Freeman – Asheville Museum of History Public Programs Director
This is the second year we at the Asheville Museum of History have hosted a cemetery series, and this tour concluded our three-part 2023 iteration.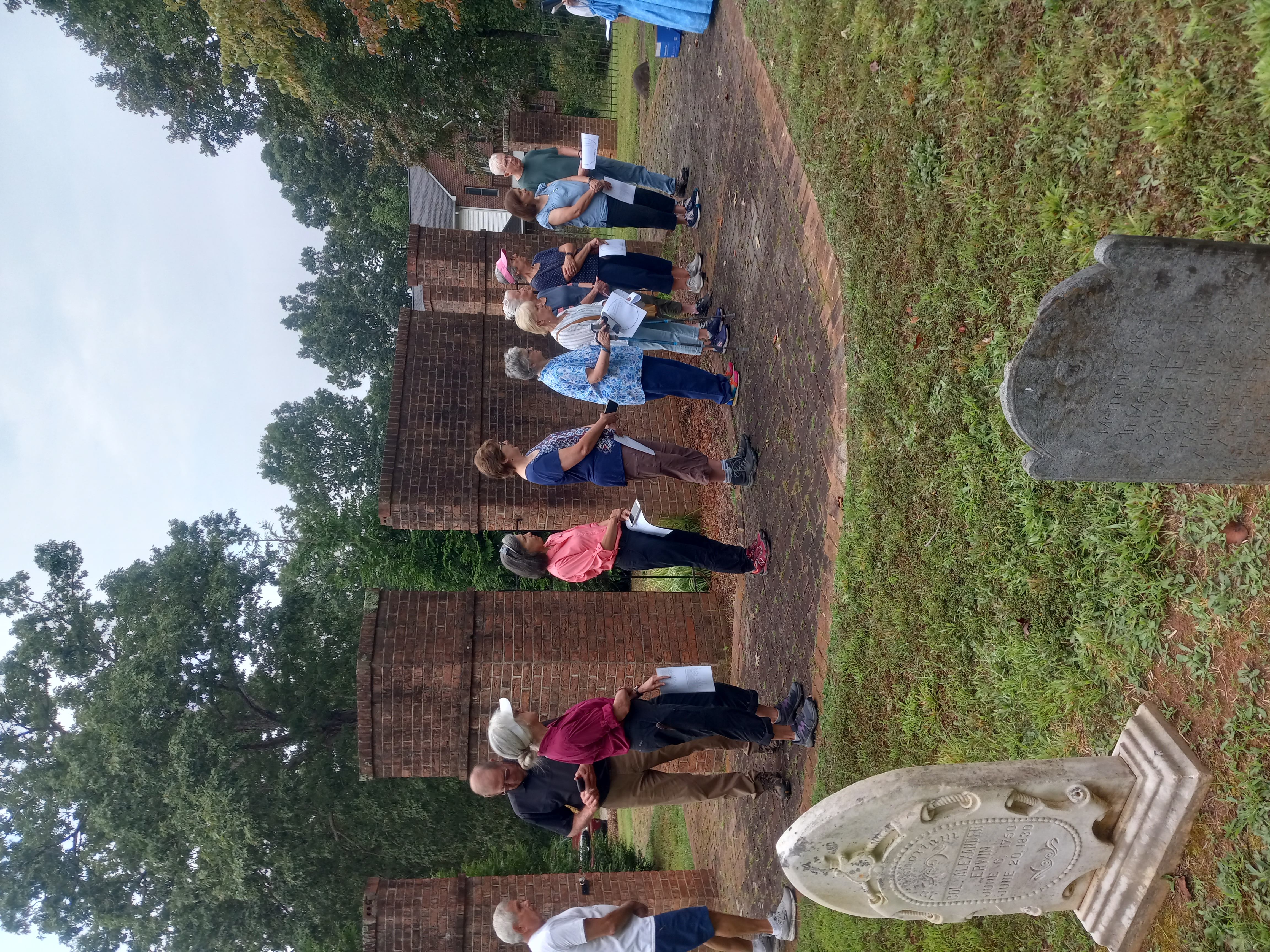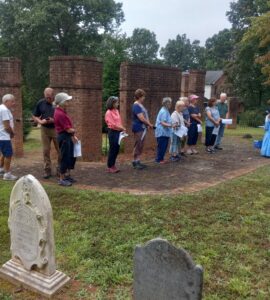 Recap
Previously, we toured Brittain Presbyterian Church graveyard and the nearby site where Loyalists were executed after Kings Mountain in 1780. We also toured the Ashworth family cemetery and the nearby Sherill's Inn.
We examined the period of white settlers pushing into Cherokee lands in the 1760s, the American Revolutionary War in the backcountry, the spread of settlers into and over the Blue Ridge, the arrival of slavery and people of African descent into WNC, and many more patterns/trends in history exemplified by the people buried at these locations.
Quaker Meadows Cemetery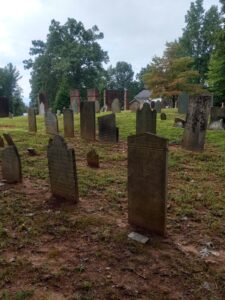 On this tour, rather than exploring the lives of the more common settlers in the foothills, we toured Quaker Meadows, where some of the first influential politicians and politically-connected families were buried. Names such as McDowell, Erwin, and Tate predominate the burials in this cemetery, just as they controlled local politics during the early statehood era. This cemetery is also heavily connected to the American Revolutionary War with ten known Patriots interred.
We were fortunate to have an interpreter from the Historic Burke Foundation to lead us through the cemetery and explain the connections between the people buried here.
Read more about the cemetery and its National Register listing: https://files.nc.gov/ncdcr/nr/BK0051.pd
Frances "Frankie" Silver Grave
The story of Frankie and Charlie Silver has become famous in the 190 years since its conclusion. Many books, tales, and even a play have resulted from a case of murder and punishment. On this tour, we visited the rumored grave of Frankie, about 10 miles outside of Morganton.
Overview
Frances "Frankie" Stewart was born in 1814-15 and moved to Burke County around 1820 with her family. They live in an area of the Toe River Valley named Kona which was then part of the much larger Burke County. It is now in Mitchell County.
Frances married Charlie Silver, one year older than her, and had a child (Nancy) in 1830 when Frances 15-16 years old. Frances or Frankie, however, was executed by hanging Jul 12, 1833, at around 18 years of age.
She never admitted guilt but was convicted of killing, dismembering, and burning Charlie's body.
Timeline
-Dec, 1831, locals noticed Charlie was missing after a supposed hunting trip around the Toe River area.
– A local hunter discovered oily ashes in the Silver fireplace then pieces of a body in and around the cabin – in the fireplace and beneath floor where blood had dripped.
– The hunter and local sheriff believed Charlie was hacked with an axe.
– Charlie was buried at a church in Kona, supposedly in three graves.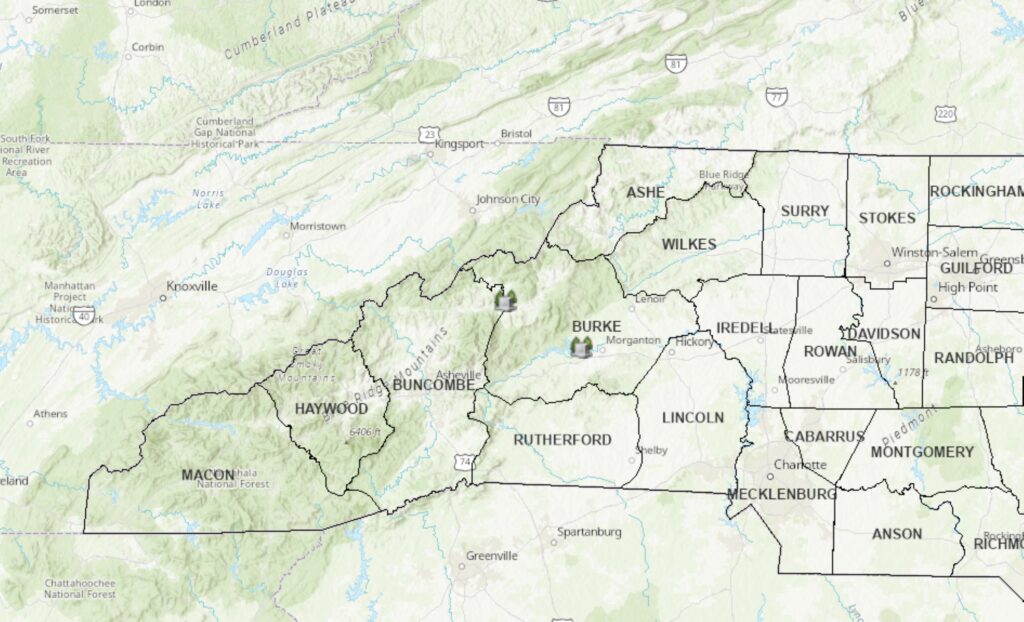 – Frankie was arrested January, 1832, and held in jail upstairs in Morganton until her trial in March.
– Her mother and brother were also charged but pled not guilty. They were discharged and Frankie alone left to face trial
– The trial lasted only two days. As author Sharyn McCrumb noted, Frankie wasn't allowed to speak in her defense under the English common law legal system still present at time. The accused could only call witnesses and be represented by a lawyer.
– The young lawyer Nicholas Woodfin of Asheville represented her. Later, he claimed she told him she killed Charlie in self defense. Woodfin supposedly later called the case a miscarriage of justice and an unjust hanging.
– Women in the county signed a petition hoping for a pardon or retrial as Frances waited execution under the fall, 1832 term of court.
– The judge didn't show, however, so her hanging was laid over until spring, 1833.
– Frankie's father helped break her from jail but she was recaptured in Rutherford County (now part of Henderson County) heading for TN with her hair cut short.
– WNC residents were hopeful for some reprieve as Governor David Swain, the first governor from the western part of the state, was in office. Swain, however, only paused her execution for two weeks.
– One legend maintains that Frankie sang a ballad of confession at her execution but most now believe this ballad written by a man named Thomas W. Scott, a school teacher who lived in Morganton at the time of the execution.
– While later historians and even Senator Sam Ervin in the 1900s touted Frankie's innocence or the idea she acted in self defense, some members of the Silver family maintained a much different view of the case. Charlie's half brother was interviewed by a local newspaper in 1900 and cast Frankie as a premeditated murderer involved in a family plot.
First Woman Hanged?
Since Frankie's execution, a legend has grown that she was the only woman hanged in North Carolina or some variation thereof. The headstone on her supposed grave claims she was the only woman ever hanged in Burke County. But is it true?
Researchers M. Watt Espy, Howard Allen, and John Ortiz Smkyla, examining court records from 1608-2002, have compiled a list of documented legal (resulting from a formal trial) executions. From their findings, we can see:

The report by Espy et.al. showing women executed in North Carolina. From https://archives.albany.edu/concern/daos/tm70n8630?locale=en

During the colonial and early statehood periods, women could be charged with and executed for killing children (infanticide). Most often these cases involved enslaved women killing their own children, sparing them a life of enslavement, or sometimes for murdering an enslaver.
Black women were hanged in NC and many other colonies/states before Frankie Silver.
Black women were hanged in NC as early as the 1760s.
In 1739, Catherine Sullivan (white) was executed along with 5 Black males in Chowan County for an unspecified crime. All 6 were hanged.
In 1805, a Black woman known only by the name of her enslaver (Jernegan) was burned at the stake in NC for murder – the last such known execution by fire in the state.
The last known woman hanged in NC for a crime was Carolina Shipp, a Black woman in Gaston County. She was executed in 1892 for allegedly killing her child.
At least 5 Black women were hanged in NC before Frankie Silver and at least 3 afterward, but she does appears to be first and only white woman executed by hanging in Burke County, and one of only two statewide.
Devault (or Giles-Devault) Burial Ground
The headstone at the supposed final resting place of Frankie Silver is located in a tiny family burial ground hidden in a second-growth pine forest about 10 miles west of Morganton. There are 2-3 other visible fieldstones nearby.

A view of the burial ground with surrounding field stones.

The burial ground is known as either the Devault or Giles-Devault Burial Ground. The name comes from Jacob and Mary Alexander Devault (born 1810s/20s and died in early 1900s). Both Jacob and Mary, however, are listed as buried in a cemetery in Glen Alpine.
In the 1930s, the Works Progress Administration (WPA) conducted numerous cemetery surveys, which are now available digitally through the State Archives.
Others listed here according to WPA records include Mrs. Giles, an unknown child d1916, and John Williams
Frankie's father supposedly buried her here as it was too much trouble to carry body back on the difficult 25+ mile journey through the Black Mountains in the summer heat. He was likely travelling on the Yellow Mountain Road, roughly the route of modern highways 126 and 80.
1952, the editor of the Morganton News Herald erected a headstone for Frankie Silvers but misspelled her name as "Silvers."
It remains unclear why her father would have chosen this spot, if anyone else was buried here before her, and if this is, in fact, her final resting place.