Ben & Julius Ragsdale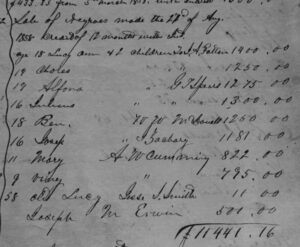 c1840: Ben is born.
c1842: Julius is born.
December 20, 1857: Ben and Julius' captor, John P. Smith, dies without leaving a will.
August 27, 1858: 18-year-old Ben is sold at the Court House by the Smith estate to William W. McDowell for $1,250.00 and 16-year-old Julius is sold at the Court House by the Smith estate to George T. Spears, the husband of Julia Cordelia Smith for $1,300.00.
1860: W.W. McDowell enslaves 40 people including a 20-year old "Mulatto" male that may be Ben. G.T. Spears enslaves 20 people including an 18-year old male that may be Julius.

1866: William Ragsdale married Celia in 1826. They may be Ben and Julius' parents. Berry (Benj.) Ragsdale and Ellen [Smith, born in Charleston, SC, according to daughter's marriage record] report being married in August 1861. Julius Rags (Ragsdale) married Louisa Smith on August 16, 1866.

1870: Ben Ragsdale, 30, and his wife Ellen, 25, and their children Mary, 4, and John, 4 months, live in Asheville. George Avery, 24, and Emma Smith, 22, live with them. Their neighbors are Will Ragsdale, 70, and his wife Lela, 67. (1870 Census)
1880: Ben and Ellen still live in Asheville. George Avery now lives next door. Ben is a shoemaker. Ben's mother, Celia, lives with the family.
April 30, 1888: Ben Ragsdale purchased land from WW and Sarah L. McDowell for $250. This land adjoins land on which he already has a home "at top of Ridge." Buncombe County Register of Deeds, Book 76, Page 308
1906: Ben gave his son John a portion of this land. (Book 151, Page 123)
1914: Ben gave his daughter, Ella, a parcel as well. (Book 190, Page 464) In this deed, it indicates that Ellen has passed away.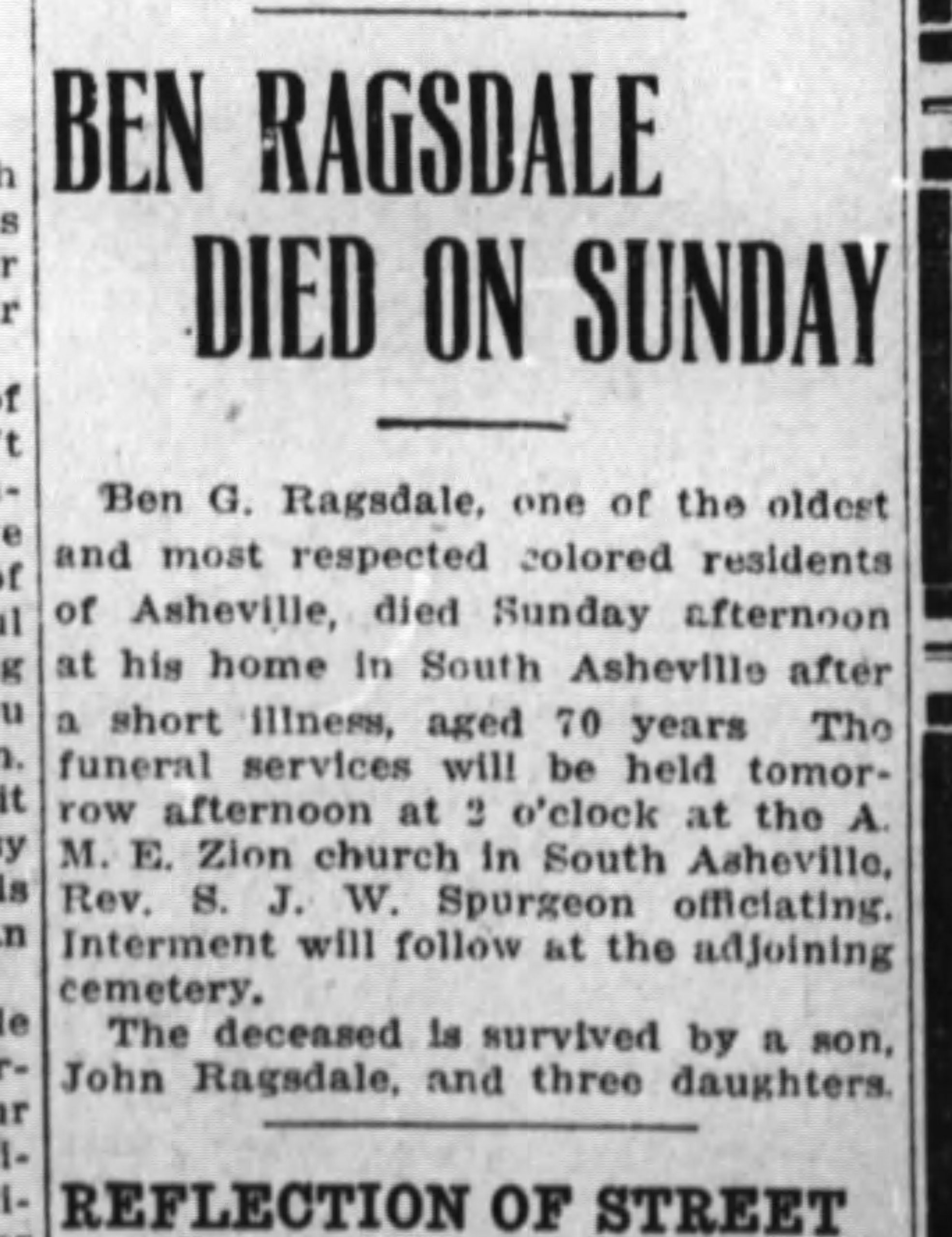 February 20, 1916: Ben died and was buried in the South Asheville Cemetery.
Thanks to Dale Slusser for his excellent article, Ben Ragsdale's Brick House on Brackettown Road.