Alfred Walker

February 9, 1850: A man named Alfred is enslaved by James M. Smith.
Not much is known about the "Alfred" who is willed to "Valentine, Wm W [William W. McDowell], + John P. [Smith]" in 1850, but it may be the same Alfred, who told an Asheville Citizen reporter in 1898, when he was 72 years old, that he had been enslaved by James M. Smith and that "I'm the only one left of my master's 500."
At 72 years old in 1898, Alfred Walker was born c1826, and would have been enslaved for nearly 40 years.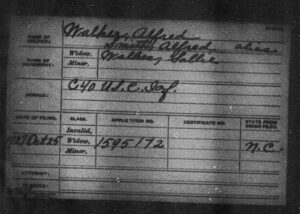 1865: This pension record identifies Alfred Walker as an alias for Alfred Smith, making it likely that this is the same Alfred Walker who was enslaved by James M. Smith. It identified that Sallie Walker was his wife and that he served in the Union Army in the United States Colored Infantry, Company C, 40 Division. Alfred died before this was filed on October 25, 1927.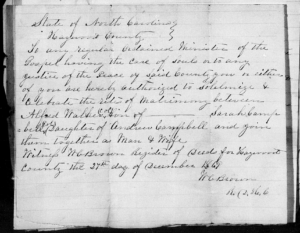 1869: To any regular Ordained Minister of the Gospel having the care of Souls or to any justice of the Peace of Said County you or either of you are hereby authorized to Solelmize + celebrate the rites of matrimony between Alfred Walker (col), Son of _______ Sarah Campbell (col), Daughter of Andrew Campbell and join them together as Man + Wife; Witness WC Brown Register of Deeds for Haywood County the 27th day of December 1869
1880: Alfred (59) and Sarah (38) live in Asheville with their children – Monroe (18), Robert (16), Mary J. (12), and Laura (7). Alfred is a farmer. Sarah is "Housekeeping." Monroe is a laborer. They live next door to Andy (67) and Emma (50) Campbell, who are likely Sarah's parents.

1900: The US Census shows Alfred (79) and Sallie (53) living in Asheville. They have been married for 31 years, placing their marriage date c1869. Alfred's occupation is listed as Brick Mason. Their 1-year-old grandson, Herculius Green, lives with them. The couple have had three children, two of whom are still living. It is likely that Herculius' mother is their deceased child.