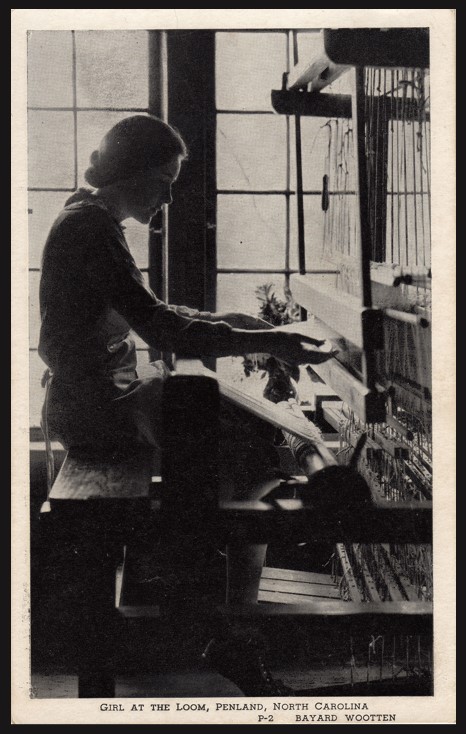 On this day in WNC history: On May 7, 1929, western North Carolina native Lucy Morgan, director of the Penland Weavers and Potters school, spoke to an audience at the University of North Carolina, demonstrating the fine crafts of her students. Morgan established a weaving program in 1923 before opening the Penland School of Handicrafts in 1929. This institute taught local women to weave and craft marketable items from their homes, which they could then sell for extra income.
Penland grew amid a missionary movement aimed at Appalachia. While several outside reform groups—many backed by religious denominations—created institutions in efforts to modernize the lives of Appalachian people, the native Lucy Morgan aimed to "bring about a revival of hand-weaving and to provide our neighbor mothers with a means of adding to their generally meager incomes." Her brother, Franklin-born Reverend Rufus Morgan, organized the co-ed Appalachian Industrial School in 1912 with the Episcopal Church. Located in Mitchell County, the school taught standard subjects, but also rudimentary crafts. Lucy taught there beginning in 1920, and in 1923 briefly attended Berea College where she learned weaving and other traditional skills. Returning home, she worked quickly to establish the Penland Weavers and Potters group at the Appalachian School, teaching and empowering local women, while also creating a social hub for them.
With physical items and film clips, Morgan proudly displayed the work of "Native Weaving in North Carolina." Just a few years prior, she worried the skills of the older generations were dying, but she helped spur those around her to preserve their traditions and build a community school. Morgan directed Penland until retiring in 1962, by which time craftspeople came from around the world to teach and learn. The small school lives on today, hosting nearly 1,200 students each year.