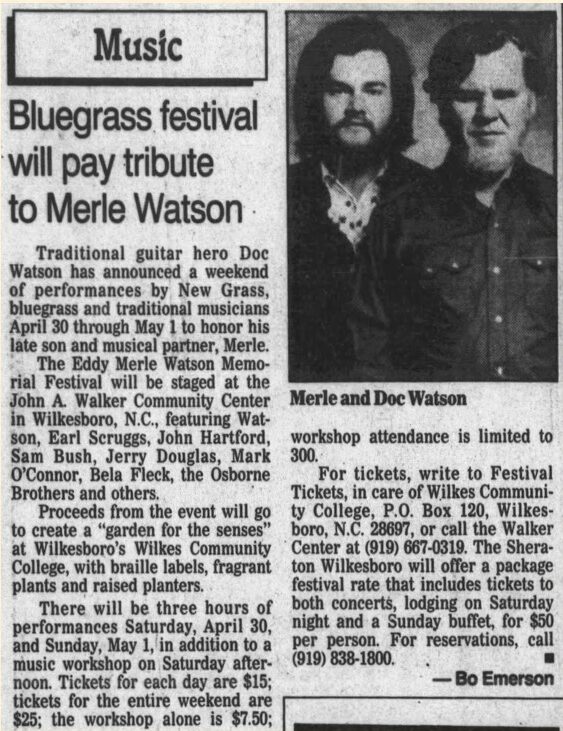 On this day in WNC history: One of the most popular music festivals in WNC, honoring one of its most beloved musicians, began on this day in 1988. The Merle Watson Memorial Festival, now known as MerleFest, has been held on the campus of Wilkes Community College in Wilkesboro ever since.
Eddy Merle Watson was the son of famed Appalachian picker Doc Watson. He achieved fame playing with his father and many other musicians prior to his untimely death in 1985. Doc and others wanted to honor Merle through music and organized this festival as a fundraiser for a special sensory garden on the community college campus, with braille-labeled plants and sculptures. The first year of the festival, artists donated their time, and played on an outdoor stage, as well as two flatbed trucks. Over the weekend, Doc Watson was joined on stage by Earl Scruggs, Emmylou Harris, John Hartford, Sam Bush, Bela Fleck, Jerry Douglass, Marty Stuart, and others.
Within a few years, the fest grew to a full four days, and musicians jockeyed for a chance to play in front of crowds of 30-40,000. In 1993, the festival also added the Chris Austin Songwriting Contest, named in honor of a deceased Boone musician. Gillian Welch won this inaugural competition, and it has provided exposure to numerous WNC artists in the subsequent years. MerleFest is now attended by crowds of up to 80,000, many of whom volunteer to help run the festival. It has featured an array of artists large and small, from NC African American blues guitarist Etta Baker, to Pete Seeger, James Taylor, and the Avett Brothers. Asked about the wide range of styles at MerleFest, Doc said: "I Like a lot of kinds of music and I wouldn't dare pick a favorite style…I like music man. That's my favorite." The festival brings in an estimated $10 million in revenue to the Wilkesboro area each year and continues to provide fundraising for Wilkes Community College.
Atlanta Constitution, Mar 13, 1988
Mark O'Connor, Sam Bush, John Cowan, Tony Rice, Béla Fleck & Jerry Douglas perform in 1988, courtesy of MerleFest
The 1988 crowd, courtesy of MerleFest
Rhiannon Giddens performs in 2018, courtesy of MerleFest
Asheville Citizen-Times, Apr 11, 1993
A volunteer shuttle driver, courtesy of MerleFest