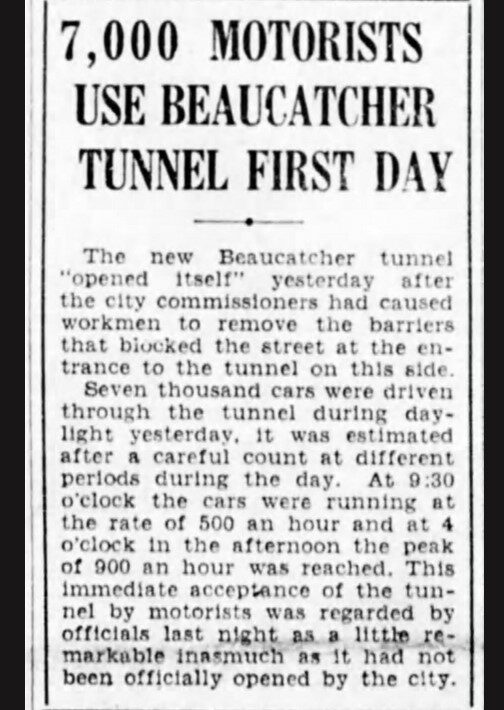 On this day in WNC history: One of the most famous Asheville landmarks opened (unofficially) on this day in 1929 as over 7,000 cars drove through the new Beaucatcher Tunnel.
Beaucatcher Mountain long served as an eastern boundary for the growing city of Asheville. Around 1803, a curving road was erected over its top through a gap, allowing rough access to the town for residents in Chunn's Cove and travelers from the east. In the 1910s, North Carolina began constructing the Central Highway (Highway 10) which traversed the mountain, but civic leaders and developers envisioned a more convenient route. In 1925, Robert Brown, president of the Asheville Real Estate Board, proposed creating an eastern tunnel entrance to the burgeoning city that would be equal parts transportation improvement and tourist/development draw.
After two years of negotiations and design revisions, Buncombe County and Asheville agreed to a funding partnership and let contracts for the tunnel's construction in May 1927. The tunnel project coincided with a massive local infrastructure improvement boom which also saw construction of a McDowell Street underpass, a new Southern Railway depot, and various public buildings. The tunnel and the street adjustments at its ends were estimated to cost just over $300,000 and contractors hoped to finish in 120 days. Workers labored from both sides of the mountain to dig the 850 foot tunnel and were nearly halfway through by December, 1927. John Baxter later recalled that he and several young friends from Chunn's Cove snuck through the narrow opening when workers finally met in the middle, perhaps the first people to do so. Cost overruns and minor design changes pushed the completion date to August, 1929 and a few cars informally began navigating curbs and unfinished road approaches to view the tunnel soon after. Finally, on September 1, barriers were removed and motorists began using the new tunnel en masse on their routes into and from Asheville along Highway 10.