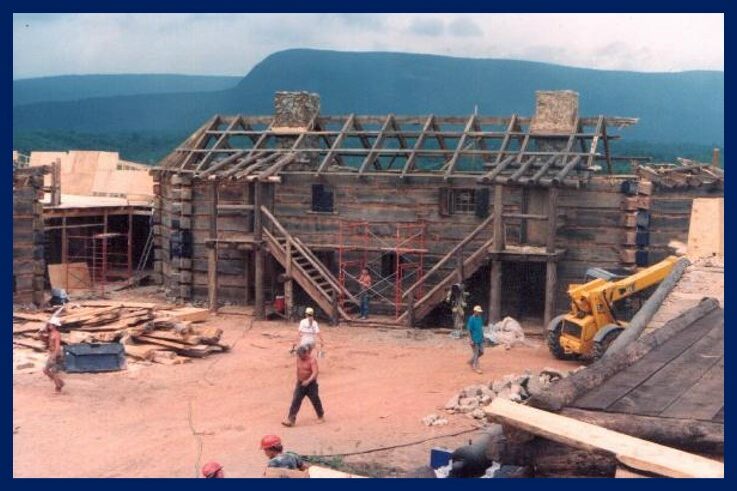 On this day in WNC history: Western North Carolina has served as a film location for numerous movies large and small. But perhaps no production has shown its range of scenery and famous landmarks to the degree of The Last of the Mohicans, which began filming on this day in 1991.
Based on the 1826 novel by James Fennimore Cooper, this film is set in the Hudson Valley of New York during the French and Indian War. Production took place in Lake James (where builders constructed a massive reproduction of Fort William Henry), Linville Falls, the Biltmore Estate, land that later became DuPont State Forest, and the Hickory Nut Gorge, where some of the most dramatic scenes were filmed. In early 1991, casting began in Hollywood with filmmakers seeking Native Americans to play numerous lead and backing roles. They also held open auditions on AB Tech's campus in Asheville, seeking Native and white extras. Local residents played other roles as well. Michael Bingham served as location manager, touring several spots in a helicopter with the film's director and encouraging him to choose WNC over Canada to shoot the blockbuster movie. Madison County musician and storyteller Sheila Kay Adams made a credited appearance, Randy King made several hundred knives for the actors, and numerous WNC construction workers and other crew also took part in the filmmaking.
Both the filming process and the resulting movie brought a range of challenges, criticisms, and lasting effects. Cooper's original source material presented several stereotyped Native characters, and many critics and scholars have noted that the film largely downplays Natives in favor of white characters. Yet the movie also gave Native actors and activists such as Wes Studi—playing the antagonist Magua—a chance to shine in leading roles. Filming also overlapped with the Kituwah National Arts Exposition, held in Asheville's Civic Center, where Native Americans from across the country (including Russell Means, who played a lead role in the movie) celebrated Native culture and arts.
Filming was not without issue either. Some Native extras as well as film crew members threatened to strike briefly over wages, and many locals complained about detours and disruptions. The production company addressed wage issues and also paid affected residents in Burke County $135 per vehicle for extra gas. In the end, Burke officials estimated the production generated over $2.5 million in revenue for the county, and increased tourism across the filming region benefited local economies to a high degree after the film's release.
Fort William Henry built beside Lake James, courtesy Mike Dover and Jim Smith (photographers) and Mohican Press
Fort William Henry built beside Lake James, courtesy Mike Dover and Jim Smith (photographers) and Mohican Press
Asheville Citizen, Apr 19, 1991
Asheville Citizen, Sep 27, 1991
Asheville Citizen, Nov 29, 1991