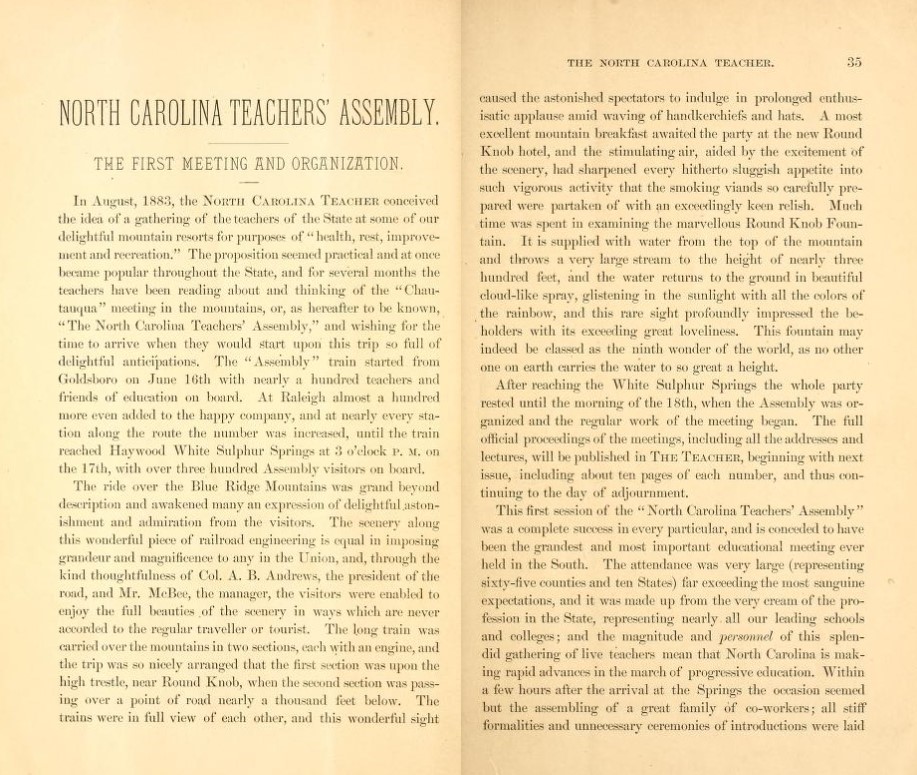 On this day in WNC history: In the grand White Sulphur Springs Hotel outside of Waynesville, the North Carolina Teacher's Assembly convened for the first time in 1884. The previous year, the North Carolina Teacher periodical called for a meeting of educators to gather and learn in a retreat. With growing interest in education, and over half a million children under the public school system, teachers from across the state journeyed to the hotel resort for a two-week stay to discuss teaching methods and schooling matters.
During this period, North Carolina began efforts to modernize its education system. Facing shortages of trained educators, many segregated Normal Schools began operating to train teachers and improve the lives of mostly poor, rural women, including at the Asheville Normal and Collegiate School. The meeting was also made possible by the arrival in the mountains of the train, on which passengers from across the state could easily travel. Reports from the assembly indicated 320 teachers arrived at the resort, including 60 who were young and unmarried. Many apparently attracted great interest from local young men according to newspapers.
Attendees came from sixty-five North Carolina counties and ten states, and leading educators of various schools and colleges spoke at the event. The Assembly also organized a board and adopted bylaws including their official mission: "That the teachers of the east and of the west may meet one another in pleasant and profitable consultation upon their work, and for the careful consideration of the most improved and successful methods of instruction." This all-white group became the North Carolina Education Association in 1922. With integration, several teacher organizations combined into the modern North Carolina Association of Education in 1970.
The North Carolina Teacher, 2, no. 1, 1884
"Haywood Springs Hotel," Hunter Library Special Collections, Western Carolina University
Charlotte Observer, Jun 2, 1884
Raleigh News and Observer, Jul 2, 1884