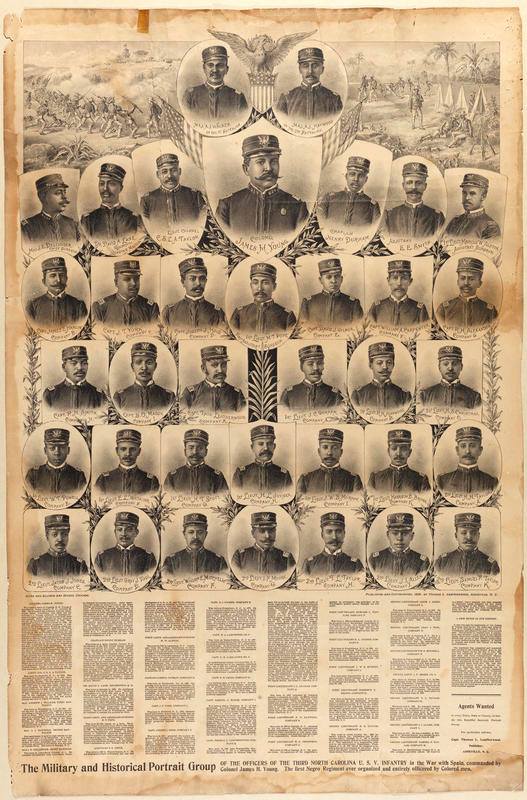 On this day in WNC history: On July 19, 1898, eleven companies of African American soldiers from North Carolina—including Companies F and K from Rutherford and Buncombe counties—mustered at Ft. Macon to begin training for war as the Third Volunteer Infantry Regiment. They were commanded by Black officers, including captains Thomas Leatherwood of Asheville and William Carter of Rutherfordton.
1898 marked a pivotal year for the larger United States as well as North Carolina, specifically. In early April, the U.S. declared war on the Kingdom of Spain and sent soldiers to fight in various locations. Some historians have also argued that the former Confederate states reconciled with the rest of the nation during this time. In North Carolina, however, this election year saw a self-styled "white supremacy" campaign by numerous politicians and newspaper editors that culminated in the Wilmington Massacre in November, and a political realignment in the larger South based on one-party rule.
Amid this change and conflict, the Third Regiment trained for an assignment that never came. In August an armistice was declared but the Third remained on duty and were sent by train to Knoxville, Tennessee in September. In route, one car derailed outside of Asheville and three were wounded, but families gathered to greet them as they pulled into the station. The happiness was short-lived; they encountered racism, violence, and ran afoul of locals in Tennessee as well as Macon, Georgia where they were reassigned in November. They were portrayed by newspapers and politicians as reasons for Black disenfranchisement as the bitter election neared its zenith. Cpt. Leatherwood was reportedly the only man in his company who returned home to vote. Many in the unit expressed desire to be mustered out as material and social conditions worsened and it became apparent they would not be sent abroad. The unit disbanded with the Treaty of Paris in February, 1899.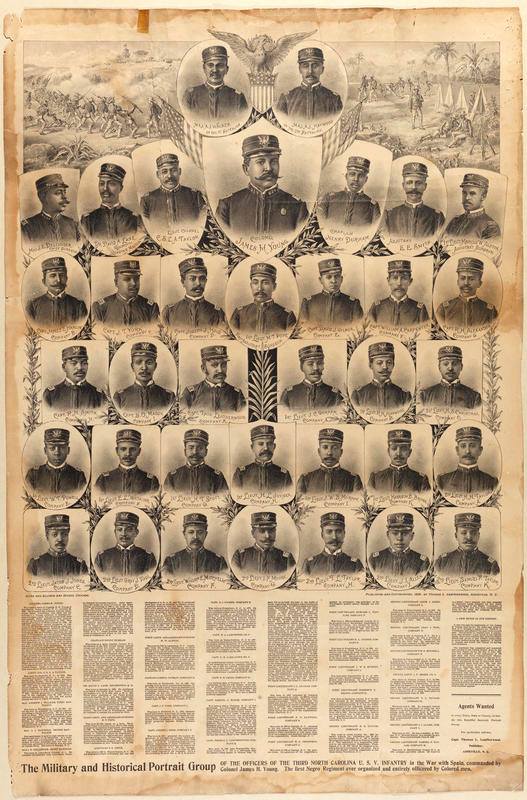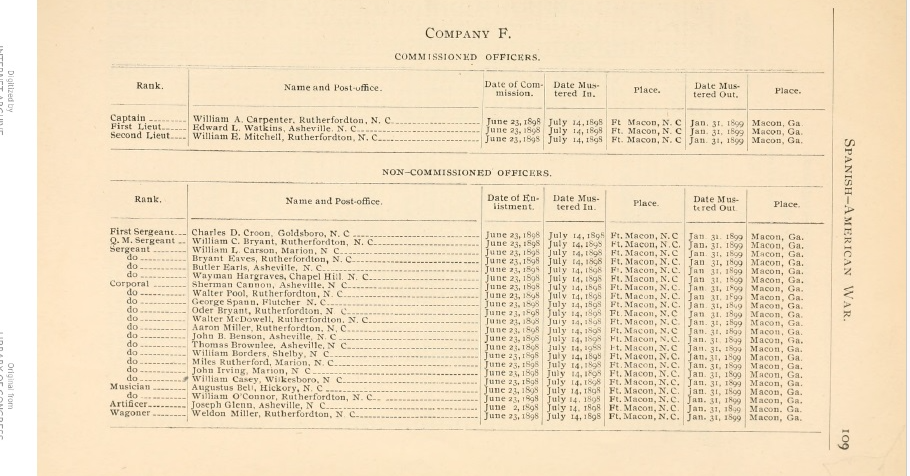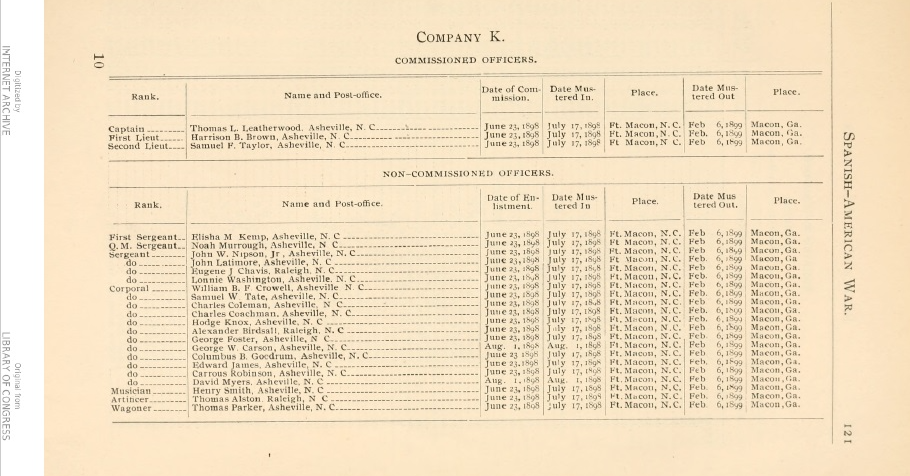 NC Third Officers, Library Company of Philadelphia
Third North Carolina in Johnson, Edward. History of Negro Soldiers in the Spanish-American War (Raleigh, NC, 1899).
Roster of the North Carolina Volunteers in the Spanish-American War, 1898-1899 (Raleigh, NC: Edwards and Broughton Printers. 1900)
Roster of the North Carolina Volunteers in the Spanish-American War, 1898-1899 (Raleigh, NC: Edwards and Broughton Printers. 1900)
Roster of the North Carolina Volunteers in the Spanish-American War, 1898-1899 (Raleigh, NC: Edwards and Broughton Printers. 1900)