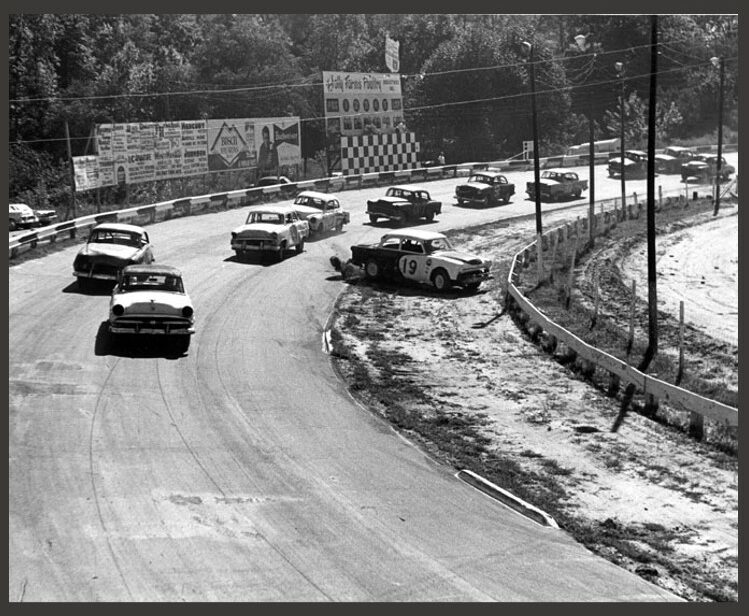 On this day in WNC history: Engines roared and an estimated 5,000 fans cheered drivers as NASCAR first visited the "New" Asheville Speedway on this evening in 1962.
By this point, racing fever had swept across many parts of the country. We have previously detailed McCormick Field's brief stint as a racetrack in the late 1950s. But even prior to its run, Asheville-Weaverville and North Wilkesboro Speedway hosted NASCAR's top-level drivers as well as Saturday night local racers here in WNC. Hill climb races operated by sports car clubs also made annual stops at Grandfather Mountain and then Chimney Rock during this period.
While North Wilkesboro, built in 1947, was the first dedicated stock car track in WNC, the little-known Asheville Speedway—often called the Fairview or Hollywood Speedway for its location on Hollywood Rd in Fairview—followed quickly in 1949. Owner George Hall negotiated a ten year lease with the McBrayer family to build a track in their cow pasture, and on September 25, regional drivers including Buck Baker inaugurated the quickly-built dirt ring. Louise Smith, one of the only female stock car racers in the area, also competed in the first season. This track, ten miles outside of Asheville, gained a reputation for having a tricky uneven surface, but marketed itself in 1955 as the only lighted track in the region for night racing. By the end of the 1956 season though, after several periods of repair and pauses in racing, the track seems to have ceased operation.
Enter the "New" Asheville Speedway. This track was at first a dirt oval built in 1960 on the former Owen Field airstrip. In 1962 though, to meet NASCAR expectations, the track was paved and shortened, and guardrails were still being erected just before the first scheduled race. From 1962-1971, the track held eight top-tier NASCAR races with Ned Jarrett, Richard Petty, and WNC's own Junior Johnson taking victories. It continued to host talented local racers until 1998 when it was sold, and eventually converted to the velodrome at Carrier Park.