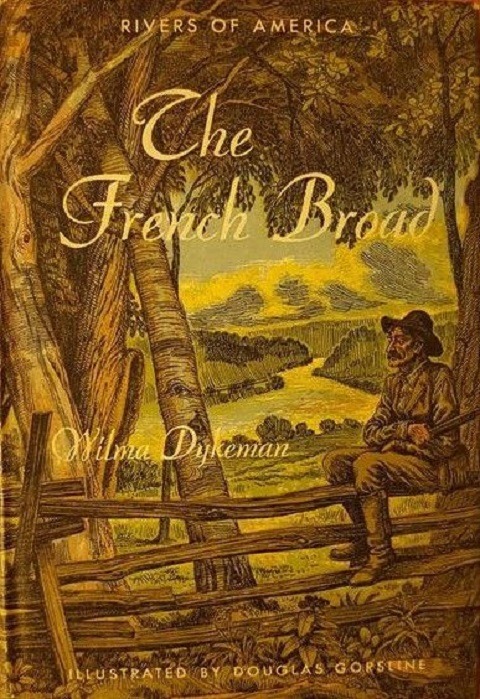 On this day in WNC history: On April 24, 1955, the Asheville Citizen-Times reviewed a new book with lasting local importance. Western North Carolina's own Wilma Dykeman, who later became Tennessee's state historian, published The French Broad as the 49th book in the Rivers of America Series. This book, one of eighteen she wrote, won the first annual Thomas Wolfe Memorial Literary Award from the Western North Carolina Historical Association.
Dykeman grew up north of Asheville in Beaverdam Creek, and wrote about a region she knew well. Her research—especially her innovative use of local oral interviews—led to a book that is at once a history of the region and people, while also a fascinating narrative. She chronicled characters great and small, including Dr. Elisa Mitchell, Big Tom Wilson, evangelical preachers, corrupt railroad executives, and famous author Thomas Wolfe. Perhaps her greatest contribution though was her chapter toward the end of the book: "Who Killed the French Broad?"
Responding to noxious pollution flowing into the French Broad from the Pigeon River and other tributaries, she pointed out the fish kills, rancid odors, and the importance of clean water to a growing population and the fishing and tourism that is so vital to WNC. Dykeman was able to speak to both the natural and the economic reasons for action. She argued that the problem belonged to nobody in particular, because the river belongs to all of us, and thus is everyone's duty. Urging activism, she implored other citizens: "It will be the highest awareness of democracy when men realize that freedom must be nourished by justice and rights can only be preserved by fulfilling the obligations they incur." In 2021, the Asheville City Council voted to name the East-Bank Greenway after Dykeman.
The French Broad book cover
Asheville Citizen-Times, Apr 24, 1955