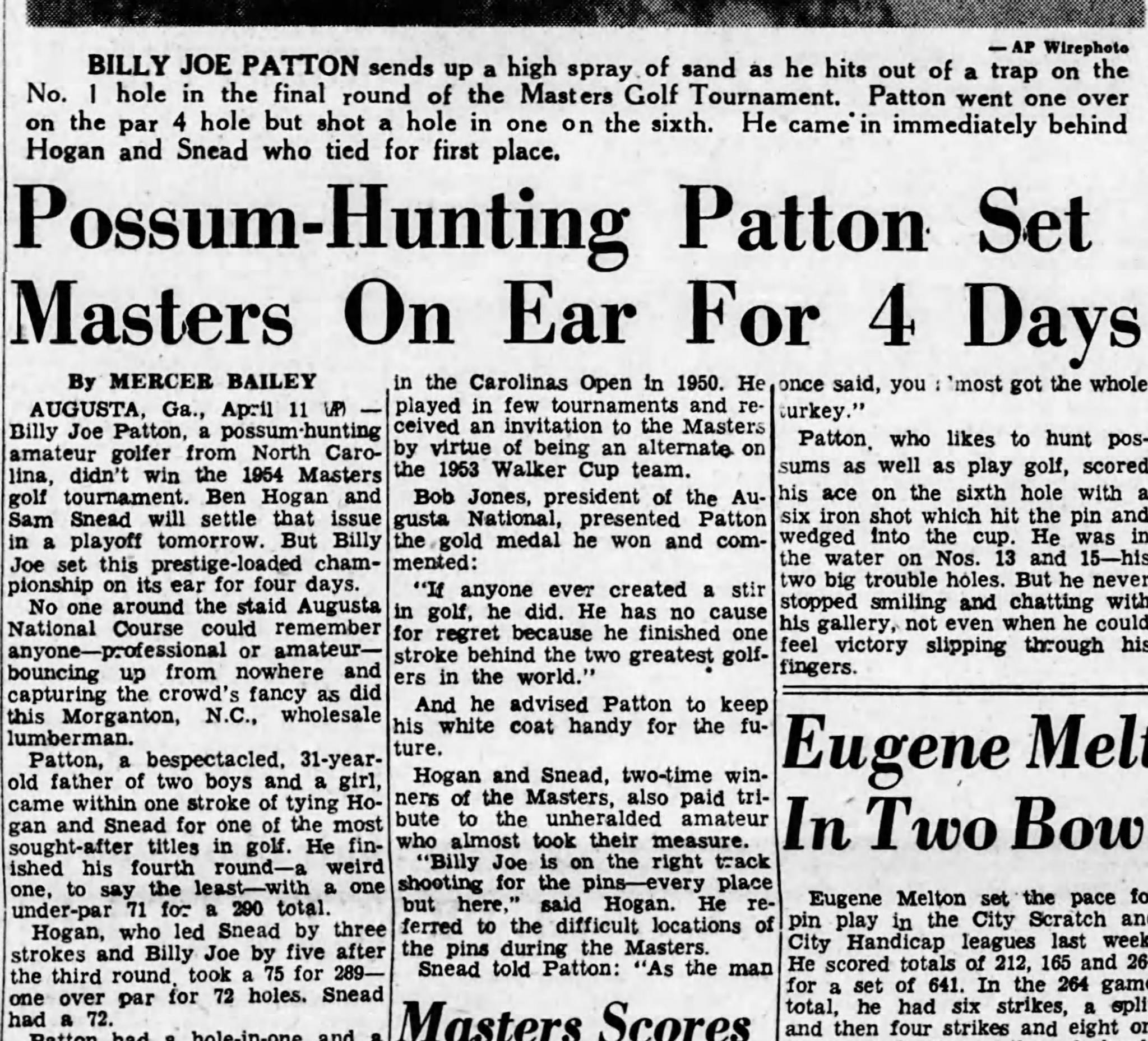 On this day in WNC history: The newspapers called him a "possum hunting amateur," but Billy Joe Patton, a lumberman from Morganton, played all Sunday, April 11 with a chance to win the 1954 Masters Tournament at Augusta in his first appearance.
Golf arrived in WNC with the construction of the Linville Golf Club in 1895. The next year, another course — the Swannanoa Hunt Club, later the Country Club of Asheville — was established just outside of Asheville. Despite these mountain clubs, few locals played the game at this time. These courses were built for wealthy tourists, and not until municipal courses began appearing in the 1920s did western NC residents take to the links.
Patton was more of an "everyman" than most professional golfers on the PGA Tour, but he learned the game playing the private Mimosa Hills Club in Morganton. He received an invitation to play in the Masters in 1954 as an amateur, and after a solid week, just missed qualifying for the tie-breaking two-man playoff by one stroke. Patton made a hole in one on the sixth hole, and was tied with the goliaths, Sam Snead and Ben Hogan, at various points during the afternoon of the final round. The gallery of spectators reportedly moved to follow him, rather than the famed Snead at one point. Patton finished third that day, but his success was no fluke. He finished T-6 at the U.S. Open that same year and made the cut at the Masters eight more times, finishing eighth twice. He even played two rounds with President Eisenhower after his sudden rise to fame. He never went pro however. The only other WNC golfer to achieve success on the tour was Boone native and Appalachian State alumnus Sam Adams who picked up one win in 1973, and finished T-23 at the U.S. Open in 1977.
Asheville Citizen, Apr 12, 1954
Charlotte News, Apr 13, 1954
"Club House and Seventh Hole of Golf Links, Asheville, N.C.," 1899-1909, Photo, Buncombe County Special Collections, Pack Library