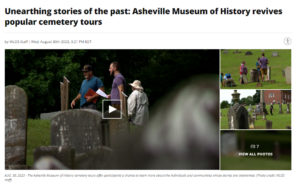 ASHEVILLE, N.C. (WLOS) — A popular tour is back! The Asheville Museum of History is offering its cemetery tours again this year.
Unearthing stories of the past: Asheville Museum of History revives popular cemetery tours
The first one happened Wednesday morning at Brittain Church Cemetery and Biggerstaff Hanging Site. Those who sign for the tours will explore cemeteries, graveyards and associated sites and learn more about the individuals and communities whose stories are intertwined.
The tours are led by the museum staff, local historians and descendants.
"It really gives us a tangible connection to the history of average people, and then, also, some very unaverage people," Asheville Museum of History Public Programs Director Trevor freeman said. "For so many people who left behind nothing more than a simple headstone or fieldstone, this might be the spot where we actually get some kind of sense of their lives, the community they lived in, the major events that happened to them and the events that they shaped, as well."
There are two more cemetery tours being offered (Ashworth Family Cemetery and Sherrill's Inn on Sept. 6 and Quaker Meadows Cemetery and Frankie Silver's grave on Sept. 13), but they are so popular they have already sold out.
For press inquires contact:
Anne Chesky, Executive Director
director@ashevillehistory.org
828-253-9231