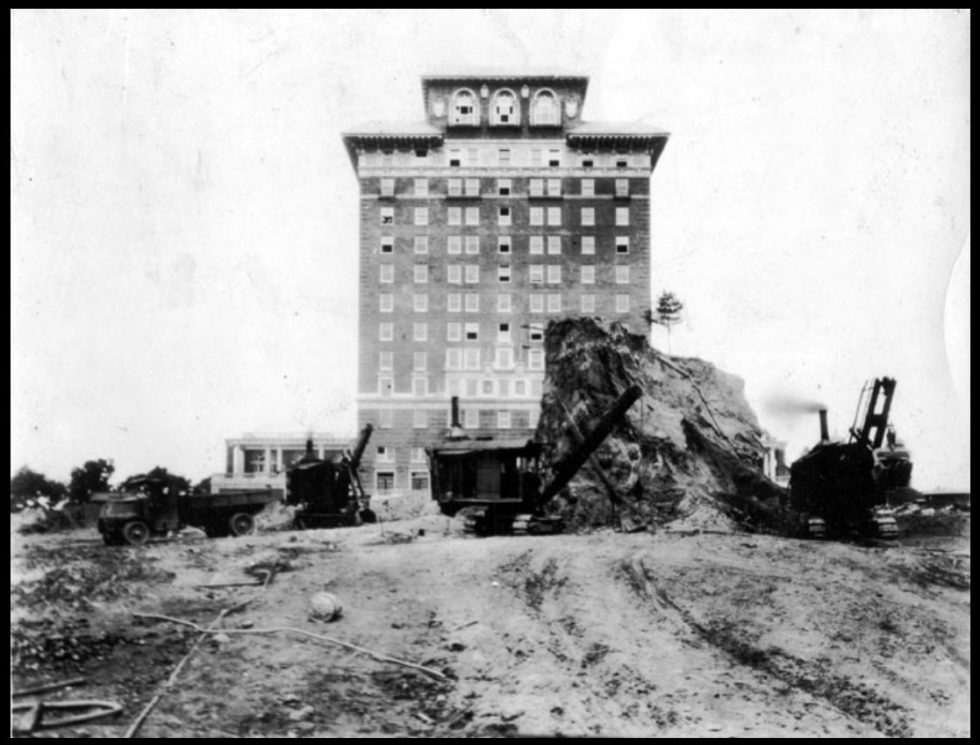 On this day in WNC history: The second hotel to stand on this prominent hill, Asheville's new Battery Park Hotel opened on this day in 1924.
In 1886, Frank Coxe financed construction of the first hotel, a sprawling Queen Anne-style structure with 270 rooms and multiple turrets or towers. It was built on the high hill where a Confederate battery once stood, and hosted guests and many important meetings until its demise in 1923. By that point, E.W. Grove, a tonic-water magnate from Tennessee, had moved to Asheville and constructed the Grove Park Inn. He then developed plans for a newer Battery Park Hotel alongside an adjacent arcade or shopping center. His construction projects required the grading and removal of a large part of "Battery Porter Hill" as well as the demolition of the existing structure. The hotel was completed in only eleven months.
The new hotel, which featured brick, limestone, and even terra cotta on the roof, embodied many different architectural styles. Featuring 220 rooms, it rose fourteen stories, with the top floor containing penthouse rooms and a roof dining patio offered fantastic views of the burgeoning city. Many guests at the opening ceremony saw traces of the old building in the new, but Asheville native Thomas Wolfe described it as a "biscuit cutter" design, looking much like one thousand other hotels built in this period, including those in New York City, the base of its architect. Grove's hotel aided the tourist influx into Asheville during the late 1920s, and managed to survive even through the Great Depression. E.W. Grove died at the hotel in 1927, but it became most famous as the site of Helen Clevenger's murder in 1936. Battery Park Hotel hosted guests until 1972, and in the 1980s became an apartment building for senior citizens, still in use today.
Last dirt removed from hill, 1924, courtesy Buncombe County Special Collections
Richard Hansley, photographer, Battery Park Hotel (back-middle), 1886, courtesy Buncombe County Special Collections
Hotel Construction, 12/1/1923, courtesy Buncombe County Special Collections
Hotel dining room, 1924, courtesy Buncombe County Special Collections
Asheville Citizen, Sep 19, 1924