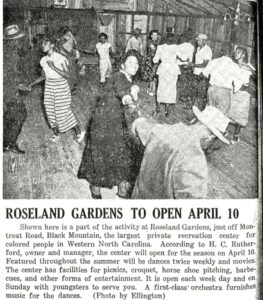 'Black Mountain Blues' at Roseland Gardens
"I'm bound for Black Mountain, me and my razor and my gun…I'm out here for trouble, I've got the Black Mountain blues."
– Black Mountain Blues, lyrics by J.C. Johnson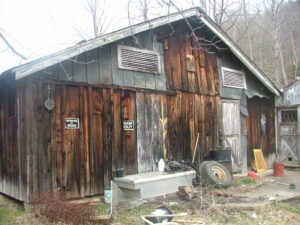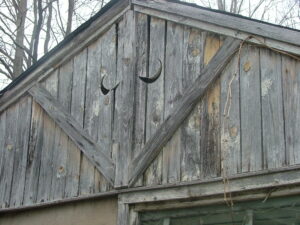 Many around Western North Carolina have speculated that the song "Black Mountain Blues," first recorded by Bessie Smith in New York City in 1930 and later covered by Janis Joplin and Nick Drake, was written by Smith after she played a gig at Roseland Gardens, a small juke joint in the African-American community of Brookside, just outside of downtown Black Mountain.
In reality, though Smith performed it, the song was written by composer J.C. Johnson in New York City. Could Johnson have penned the song after a visit to Black Mountain?
It stands to reason that if Johnson, an African American, did visit Black Mountain, he would have spent an evening – and perhaps a night – at Roseland Gardens, the town's popular juke joint, one of the only places around that provided entertainment, food, drink and a place to stay for African-American tourists, locals, and performers during segregation.
Roseland Gardens was owned and operated for almost 60 years by Horace Chamber Rutherford. Rutherford was born in 1896 in Swannanoa to a Cherokee mother and an African-American father. He inherited the land on which he built his club from his mother's Native American relatives.
Rutherford built Roseland Gardens around 1920, possibly as early as 1918, when he saw a need for a social gathering place for his friends and neighbors during a time when segregation prohibited the Black community from patronizing area restaurants, bars, pools, lakes and music venues.
"People were coming here from all over, working at Montreat, Ridgecrest and Blue Ridge and of course those people had no way of socializing other than church," said Rutherford's granddaughter, Katherine Debrow, then 67, in a 2006 interview with Sally and Garry Biggers. "That's why my grandfather built the juke joint. But he was also a businessman, and so he just came up with all these ideas of ways to make money."
Roseland Gardens' reputation for lively entertainment spread quickly, something Debrow understood from watching the activity from her house next door (though she was rarely allowed inside the dance hall). Soon folks from as far away as Asheville, Old Fort, and Marion were regularly making their way up the narrow dirt road to the Brookside community, at the intersection of what are now Flat Creek and Padgettown roads. Taking advantage of Roseland Gardens' popularity, at least two other small juke joints would open in Brookside during the next 50 years. Neither had the patronage or longevity of Roseland.
This ad appeared June 11, 1957, in the Asheville Citizen Times.
Brookside was also home to a church, school, beauty parlor, corner grocery, and filling station. The Grammy-award winning artist Roberta Flack was born not far from Roseland Gardens, though she never performed at the venue.
"Just going through some of his personal things, we know that he (Rutherford) went to New York and visited the Roseland (Ballroom) there," Debrow recalled. "I think that's probably how he got the name for his place here … because if you look at some of the old pictures of the Roseland in New York, he had some of the same features in the building, one of them being that chandelier that he had in the dance hall area. I mean, no one else in the area had anything like that."
A short article in a March 1950 Asheville Citizen identified Roseland Gardens as "the largest private recreation center for colored people in Western North Carolina." The center was open for the summer and held twice-weekly dances and movies and provided "facilities for picnics, croquet, horse shoe pitching, barbecues, and other forms of entertainment."
A March 1950 Asheville Citizen article about Roseland Gardens.
"The other thing about the juke joint is that the churches would hold their annual picnics here," Debrow remembered. "He (Rutherford) had little benches all over the woods. He also had little grills set up so they could grill things if they wanted to."
The main building at Roseland Gardens provided a large, open space with a wooden dance floor and stage. A smaller cement block building was added in the 1940s and served as a bar. "He had a little concession stand … made out of concrete block," Debrow said. "He did sell beer. He also had those big jars of pig feet and crackers and all kinds of snacks. All the things that they sold in little country stores then."
Cut into the wood above the door of the concession stand, visible from the road, were two crescent moons. Similar to those typically seen on an outhouse door, the moons indicated that moonshine was available on premises, according to local musical historian Don Talley.
Debrow described her grandfather as "a very colorful man" who carried two .45-caliber revolvers. "That was his way of controlling what he called 'riffraff' that would come through and want to start fights," she said.
Roseland Gardens closed in 1976, but the building, at left and seen here in 2006, remained standing until it was demolished in 2015.
Roseland Gardens was one of the first public, integrated spaces in Western North Carolina.
"As a matter of fact there were always Caucasian people in and out of my grandfather's juke joint," Debrow said. "They came to listen to the music. They came to drink beer. So this was probably about the only place that anybody could come in and sit down in the afternoon and get a cold beer. So I imagine that's why everybody in Black Mountain remembers Roseland Gardens."
In the 1930s, a theater opened in Black Mountain for whites only, so Rutherford obtained a used film projector and began showing movies at Roseland Gardens in the evenings and on Saturday mornings.
"My grandfather did that thinking of the children in the Valley not having any entertainment," Debrow said. "There was no other Black theater in this area. Not in Asheville. Not in Black Mountain. Not in Hendersonville. Not in any area."
Roseland Gardens closed in 1976. Its buildings stood until just a few years ago. Before it was bulldozed, Debrow donated many items to the Swannanoa Valley Museum, including the movie projector.
"To me it is a very important part of the history of this Valley for the black community, and for the white community as well, because they all socialized in that building together, even though there was segregation during that time," she said. "Everybody always says to me 'your grandfather had the best music in town.'"
Anne Chesky Smith is the Executive Director of Asheville Museum of History.
Read at Asheville Citizen-Times.com