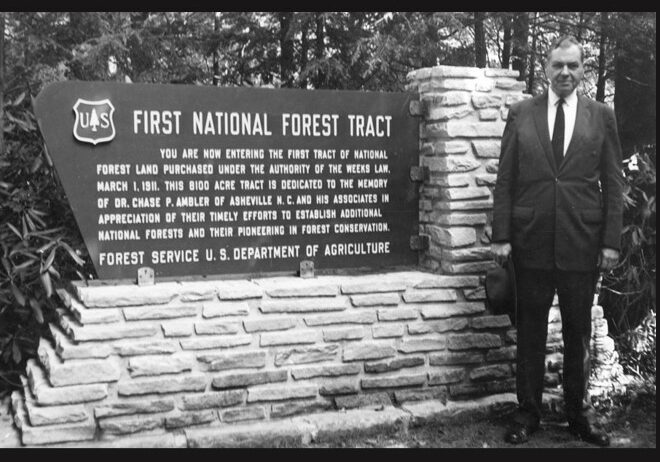 On this day in WNC history: Following the passage of the Weeks Act on March 1, the U.S. Forest Service authorized the first purchase of timberlands for eastern national forests on this day in 1911. Of seven areas announced, five were located in WNC, with approximately 215,000 acres around Mt. Mitchell listed as the top priority. Later, in December, the USFS officially purchased the first tract—8,100 acres near the head of Curtis Creek in western McDowell County—from the Burke McDowell Lumber Company.
Organizations such as the Appalachian National Park Association previously lobbied to protect the rapidly denuding timberlands within the southern Appalachians, and WNC senator Jeter Pritchard unsuccessfully introduced a bill for a forest reserve in 1901. Impetus for conservation legislation grew throughout the next decade, but bills were continually blocked by conservative House speaker Joseph Cannon of Illinois. As timbering ravaged forests throughout Appalachia, Cannon was finally swayed by the efforts of Massachusetts' John Weeks, who fought similar devastation in the White Mountains. Weeks' efforts finally coalesced into an act which protected mostly cut-over timberlands in the headwaters of navigable streams.
In the following years, the USFS acquired lands within WNC purchase units, at market price, from both large timber companies and private holders. Some purchases were thwarted as individuals held out, including George Vanderbilt, whose wife Edith finally sold 86,000 acres to the government following George's death in 1914. While the Curtis Creek and other surroundings tracts were initially part of a planned Mt. Mitchell National Forest, in 1916, they were combined with the former Vanderbilt lands to create the Pisgah National Forest, the first in the eastern U.S.
USFS chief, 1961, courtesy Forest History Society, Durham, N.C.
Wilmington Morning Star, Dec 10, 1911
"Southern Appalachian Region" in National Forest Reservation Commission, Progress of Purchase of Eastern National Forests (Washington: US Gov Printing Office, 1920), courtesy D. H. Ramsey Library, Special Collections
"Mt. Mitchell Purchase Unit," in National Forest Reservation Commission, Progress of Purchase of Eastern National Forests (Washington: US Gov Printing Office, 1920), courtesy D. H. Ramsey Library, Special Collections