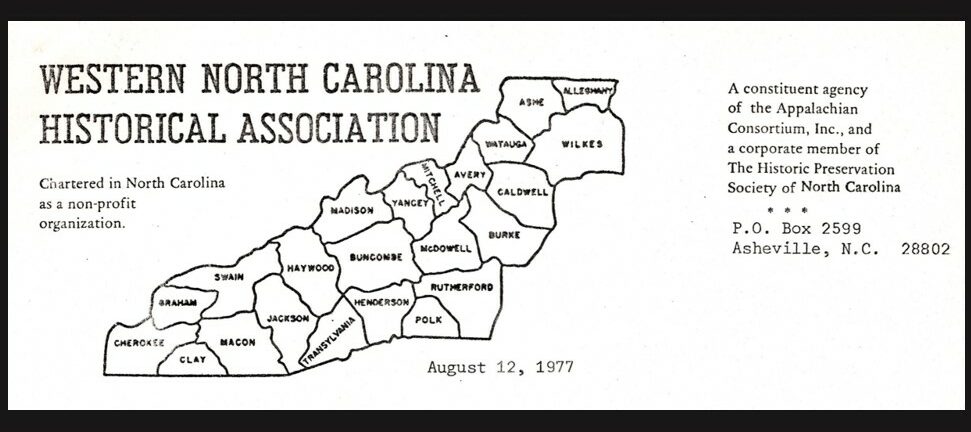 On this day in WNC history: Seventy years ago, on a cold, snowy night, representatives from fifteen mountain counties gathered at a dinner meeting in Waynesville to form the Western North Carolina Historical Association (WNCHA). By May, the group had elected officers and held its first official meeting. It was legally incorporated in August of that year as an historical and educational non-profit and has operated continuously since.
Local historian Clarence Griffin, one of the founding members, noted that the active work of the East Tennessee Historical Society, and the rising interest in regional history spurred by North Carolina's highway marker program both contributed to the desire to establish a group in western North Carolina. WNCHA adopted the twenty-three-county boundary of the WNC Press Association, and elected a director from each county. Directors elected Dean W.E. Bird of Western Carolina College (now WCU) as the first president.
WNCHA quickly embarked on a mission to educate and also help gather and preserve local history and materials. They held quarterly meetings in different WNC venues, from Flat Rock to Boone, and also worked to publish regional histories including Sadie Smathers Patton's "Buncombe to Mecklenburg: The Speculation Lands," and "Local History: How to Find and Write It" by the second director, Dean D.J. Whitener of Appalachian Teachers College (now ASU). In its third year, WNCHA began the annual presentation of the Thomas Wolfe award to WNC authors and books about the region, while awarding an outstanding achievement trophy as well. By 1975, WNCHA began leasing the Smith-McDowell House in Asheville, restoring and opening it to the public as a museum and headquarters in 1982.
Our history, like that of the region we call home, is still being written. We hope you will join us as we continue our mission through our museum, virtual and outdoor programming, and more!