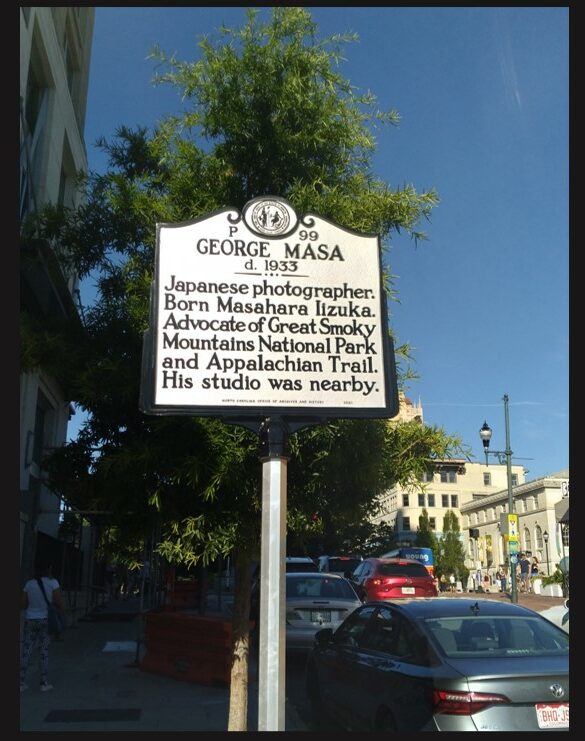 On this day in WNC history: Travelling overland by train from San Francisco to St. Louis, and ultimately to Asheville, Masahara Izuka arrived in WNC for the first time on this day in 1915. We typically know him better by his adopted name – George Masa.
Masa was a native of Japan who, at around age twenty-five, entered the University of California in 1906 to study mining engineering. His interest in science though, is not why Masa is particularly remembered. When he arrived in Asheville, he began working in the Grove Park Inn and altered his name at some point. Masa arrived during a noted period of nativism and general anti-Asian racism between the Chinese Exclusion Act of 1882 and the National Origins Act of 1924, and this climate may have spurred his decision. The Grove Park manager loaned Masa a camera and tasked him with taking photographs for promotion as Masa began hiking in the region with guests of the inn. Masa made connections with influential Asheville residents, and after a short sojourn to Colorado to prospect for gold, he returned to WNC for good in 1917. In 1920, he turned his self-taught photography skills into a business, establishing Plateau Studios and then the Asheville Photo Company.
Masa traipsed across the Smokies and other mountain chains in southern Appalachia, lugging heavy cameras and tripods, as well as a homemade "cyclometer" to measure and map his hiking routes. On his excursions, he became fast friends with Horace Kephert who hired him to produce photos of the mountains threatened or already denuded by logging. This pair not only captured the beauty of the region, mapping and naming many peaks in what eventually became the Great Smoky Mountains National Park, but served as its foremost advocates for federal protection. Kephart died in 1931, and Masa unfortunately lost most of his earnings during the Great Depression before he died of influenza in 1933. Most of his original photographs also disappeared. He was buried in Riverside Cemetery rather than beside his friend but in 1961, the National Park Service designated Masa Knob, beside Mount Kephart, in his honor.
An informal photo of Masa with a taxidermied squirrel in studio
Masa (second from left) possibly with members of the Carolina Mountain Club
Highly detailed map of the Smokies created by Masa, c1930
photo of a bench near Kephart's grave in Bryson City most likely taken by Masa, all courtesy Buncombe County Special Collections