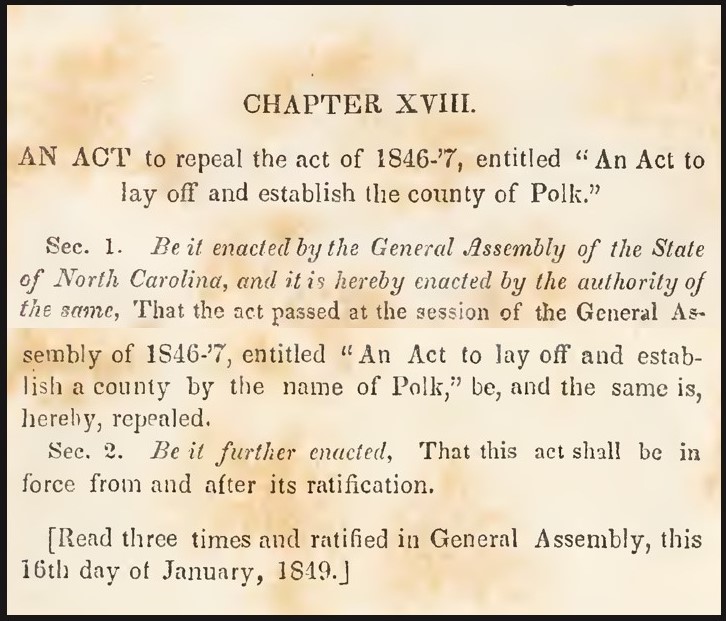 On this day in WNC history: In previous posts, we have discussed the creation of some WNC counties, but did you know that one was created, then repealed, then reauthorized, all in an eight-year span? On this day in 1849, the NC General Assembly passed an act repealing the county of Polk, created just two years prior.
In 1847, the Assembly ceded parts of Henderson and Rutherford counties to form a new entity named in honor of the Revolutionary War officer Col. William Polk. They appointed S. Mills, James Blackwell, Johnathan King, William Jones, and Columbus Mills as commissioners and tasked them with securing one hundred acres and establishing a county seat within five miles of the home of Murrell Mills. This town was set to be named "Schuywicker" after the Native American Skyuka. Early in its first iteration, Polk County generated controversy as Representative William Wilkins of Rutherford County (and others) called into question the integrity of the original petition for the county's establishment and Polk residents debated over the location of the county seat. Some representatives charged that the county was created by fraud: that its population was much smaller than claimed by Columbus Mills, that many in the northernmost section wanted to remain with Rutherford County, and even that the signed and submitted petition introduced by Mills had been subsequently altered with changes written on separate pages or pasted onto the original.
When the legislature rescinded Polk's charter in 1849, the public battle between Wilkins and Mills continued, with Mills presenting to the legislature a petition of disapproval supposedly signed by "a large majority of the citizens" and Wilkins calling the truth of its representation into question. The shortly-tenured former sheriff of Polk County was even sent (unsuccessfully) to arrest Columbus Mills, and the matter became a test case for the state courts over whether the General Assembly had power to repeal a county's charter. Ultimately, with the election of Mills to the legislature in 1854, the state reauthorized Polk County the following year, with the county seat—Columbus—named after its outspoken proponent.