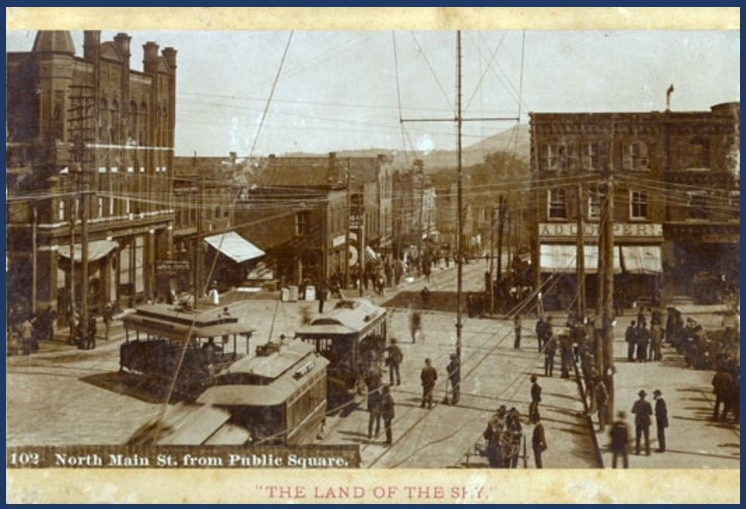 On this day in WNC history: Just three years after Scranton, Pennsylvania created the nation's first fully electric streetcar system, the newly-booming Asheville inaugurated its own electric streetcars on this day in 1889.
Since the 1830s, horse-drawn streetcars provided transportation for residents in several American cities. Here in WNC, Asheville became the first city in the state to adopt the new all-electric streetcar system, beating Charlotte, Raleigh, Winston-Salem, and Wilmington by two or more years. In 1888, the city chartered the Electric Street Railway with prominent industrialists John Barnard and Westray Battle as general manager and vice president. After a few months of public argument over the routing of the car lines—with several impassioned Ashevillians clamoring for routes to serve working-class communities—the city and company began laying tracks and electric lines, and purchased three cars at $1,200 apiece.
The first cars had open ends and held twenty-four passengers. They could travel up to fifteen miles-per-hour and cost passengers five cents, or about $1.65 in modern terms. By 1892, the railway stretched lines across the French Broad River, connecting downtown to the Sulphur Springs Hotel. It soon added spur lines to North Asheville, Biltmore Village, the Grove Park Inn, and the popular Riverside Park. The cars would turn around in sharp horseshoes or "Y" tracks and return to their downtown hub, running roughly every twenty minutes. For a time, around 1907, Asheville boasted the most streetcar riders in the state with over three million annually. From 1913 to 1918, Hendersonville also operated a short electric line, while Asheville's cars operated until 1934. The tracks were ultimately removed as cars and busses took their place.
Postcard of streetcars in Pack Square, c1890, courtesy Buncombe County Special Collections, Pack Memorial Library
Riverside Park with streetcars, 1908, courtesy Buncombe County Special Collections, Pack Memorial Library
1892 map of streetcar lines, courtesy Buncombe County Special Collections, Pack Memorial Library
Undated trolley turnaround, courtesy Buncombe County Special Collections, Pack Memorial Library
Asheville Citizen, Jan 5, 1889