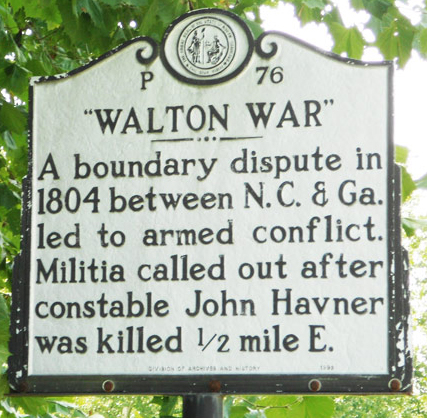 On this day in WNC history: Simmering tensions in the Walton "War" between North Carolina and Georgia finally turned deadly on this day in 1804.
Following the American Revolution and the loss of their British alliance, the Cherokees were forced into a series of land cessation treaties with the federal government and several states. In 1798, they ceded a large triangular chunk of land from the modern Tennessee border southeast to the Blue Ridge Escarpment between modern Henderson and Transylvania counties. This land contested by white colonists and Natives for several years then became host to a new animosity. Surveys of this region brought the states of North Carolina and Georgia (and South Carolina to a lesser extent) into conflict over their borders. In 1802, Georgia claimed the lands surrounding the French Broad River headwaters near modern Brevard and Rosman, North Carolina. Georgia established Walton County, though most white residents of the area claimed North Carolina citizenship.
In early December, 1804, Georgia militias launched two small attacks on specific North Carolina residents with minimal injury. Finally, on the night of the 14th, twenty-one Georgians attacked the local constable John Havner and one assailant struck and killed him with the butt of a rifle. A few days later, Buncombe County dispatched sixty militiamen to the area and brought ten of the "most notorious" to the jail in Morganton, North Carolina. After protracted legal cases and the escape of the prisoners, the "war" was brought to an arbitrated end. In 1811, surveyor Andrew Ellicott convinced Georgia that all of their Walton County lay within the boundary of NC, north of the 35th parallel. A rock beside the Chattooga River has since marked the tri-state boundary. Small surveying mistakes still create issues between North Carolina and Georgia, however, and as late as 1971, Georgia unsuccessfully tried claiming a tiny portion of the former "orphan strip" of land in modern Transylvania County.
Historical marker, Carolana.com
1804 map showing Walton County and incorrect 35th parallel, courtesy State Library of North Carolina
Map showing Cherokee territory, the "orphan strip," and Walton County, WNCHA Map
1884 Royce Map of Cherokee treaties, Library of Congress
Andrew Ellicott to James Madison, June 3, 1812, National Archives