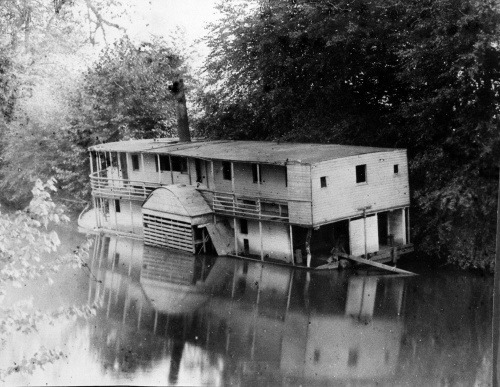 On this day in WNC history: A steamboat in the mountains? As far-fetched as this may seem today, on August 2, 1881, the "Mountain Lily" was christened for the French Broad Steamboat Company with a barbecue and brass band. The short-lived steamboat transported passengers along a stretch of the French Broad between Brevard and Hendersonville until it was stranded by a flash flood in 1884.
The river where the Lily ran was slowly improved for navigation in the middle decades of the 1800s. Still, many scoffed and jeered at the idea the boat could paddle upstream or navigate river hazards and bridges. Buncombe County civic leader S.V. Pickens was determined, however, to see the boat constructed and secured congressional funds and army engineers to dredge the river and construct jetties to raise the water level. After securing a state charter in February, he had Godwin&Co. of Norfolk build the two-deck, ninety-foot-long boat propelled by two sidewheel paddles. It was capable of carrying up to 100 passengers between Brevard (Horseshoe Bend) and just outside of Asheville. It was billed as "the highest boat line in the world." According to passengers, it had a draft of only 18 inches, but mules were often needed to pull it along the river in periods of drought. Rather than reliable transportation, the Lily turned into a periodic party floater.
While the boat struggled to turn a profit (and to turn its wheels in the shallow and unpredictable river) many journalists and delighted passengers enjoyed the novelty of boating in the "Land of the Sky." Ultimately, the boat washed ashore in a flood near Mills River and was slowly scavenged for lumber and its engines. Many of its boards were used in constructing the Horseshoe Baptist Church, and its bell is thought to survive still in private hands.