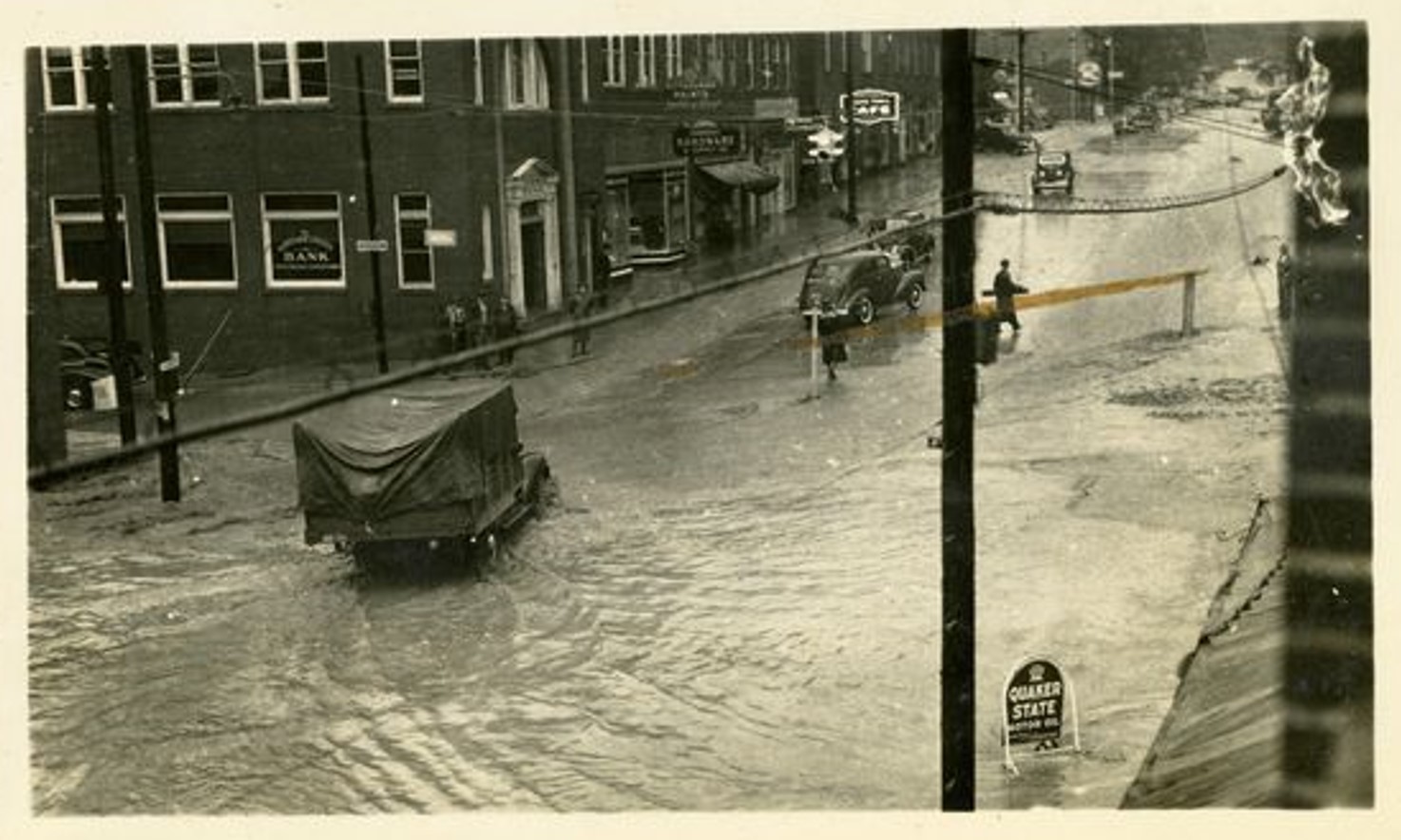 On this day in WNC history: Western North Carolina is no stranger to flooding. The flood of 1916 wreaked unimagined havoc, but twenty-four years later, another deluge spread destruction and death throughout the mountains yet again. The two catastrophes of 1916 and 1940 bore marked similarities.
On August 11, a hurricane once again hit South Carolina and moved west, before turning northward over the WNC mountains. As before, previous storms had saturated the region—twenty-one inches of rain had fallen in August alone. By the 13th, rivers overflowed their banks as rains and flooding ravaged the mountains, wreaking havoc from Sylva to North Wilkesboro. In Canton, the Pigeon River swelled and over 100 families were forced to evacuate. A twenty-year-old college student died in Black Mountain attempting to open flood gates on Lake Eden, and in Asheville, the three mains controlling the city's water supply burst. At least twenty in the high-country region perished from flooding and landslides. Downtown Boone, at 3,333 feet above sea level, flooded after receiving eight inches of rain within a day. Watauga County alone likely experienced over 2,000 landslides, many of them occurring in the dark, giving residents in small communities like Deep Gap or Meat Camp little to no warning or chance to flee. Rail service to Boone was permanently disabled as the flood washed away the line leading from Cranberry Gap, leaving a locomotive and its crew stranded.
Elsewhere, the Tuckasegee River spread destruction in Jackson County, washing away several bridges and roads, with some residents clinging to the tops of trees to save themselves. Meanwhile the Watauga and New rivers crested several feet above their records from the 1916 flood. Several towns and villages in the region, such as Blowing Rock, were completely cut off for days, if not longer. In agricultural regions, such as those around Hendersonville, entire crops and fields were ruined. The Red Cross worked to arrange hasty relief and evacuation sites, and many evacuees were inoculated for typhoid fever, including at the All Souls Cathedral in Asheville's Biltmore Village. Some estimates, adjusted for modern inflation put the damage toll of the 1940 flood at over $300 million, and at least eight stream gauges in the mountains still mark this as the worst flooding recorded.
Floodwaters Swirl in Boone, Paul Weston (Photographer), Digital Watauga
Old Cullowhee Rd Bridge, Western Carolina University, Hunter Library Special Collections
Figure 3 from Witt and Wooten, 2018 (Paper)
Canton Enterprise, Aug 15, 1940
News and Observer, Aug 16, 1940