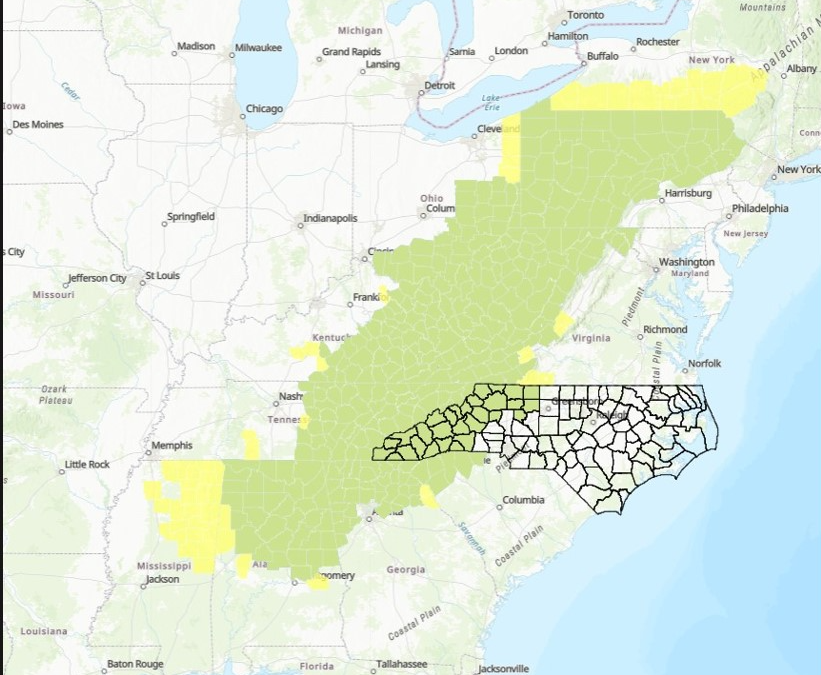 On this day in WNC history: On March 9, 1965, President Lyndon Johnson signed the Appalachian Regional Development Act into law. This act lumped 360 counties from 11 states (including 29 in North Carolina) into another designation of "Appalachia" and created an Appalachian Regional Commission (ARC) still active today.
Federal concern for Appalachia had grown since the FDR administration, during which several New Deal programs benefitted or altered the mountainous region. Interest in the economic plight and quality of resident's lives renewed under President Kennedy in the early 1960s, after the Council of Appalachian Governors sought federal assistance and the president toured the region. Kennedy was spurred to action by labor and poverty issues—particularly in West Virginia and Kentucky—and established a committee to prepare a report on the region's issues and opportunities. The report, which seldom differentiated between specific sub-regions or states, noted low per-capita income, a history of resource extraction and exploitation, changing economies, and the urgent need for land conservation and erosion control throughout the mountains.
After the 1964 report, which described Appalachia as "a region apart," Congress passed the aid legislation by a large margin in February, 1965, and the president signed it shortly after. It allocated over $1 billion in federal aid and investments, including the Appalachian Development Highway System and over 2,000 miles of improved roads, for the broad region. The ARC, along with other federal and state initiatives have invested in over 28,000 Appalachian projects since 1965, and the number of counties served has also grown to 423 in 13 states. By ARC estimates, Appalachian poverty rates have fallen by half during this period, and the region has made strides toward parity with the rest on the nation in many metrics, yet in healthcare and infrastructure particularly, Appalachia continues to face challenges.
Map of ARC boundaries (1965 in Green/Current in Yellow) – WNCHA Map
"The Appalachian Regional Development Act of 1965." Robert C. Byrd Congressional Papers, Association of Centers for the Study of Congress
Asheville Citizen, Sep 17, 1965
Appalachian Regional Commission, "Appalachia," U.S. Government Printing Office, 1964.
Appalachian Regional Commission, "Appalachia," U.S. Government Printing Office, 1964.