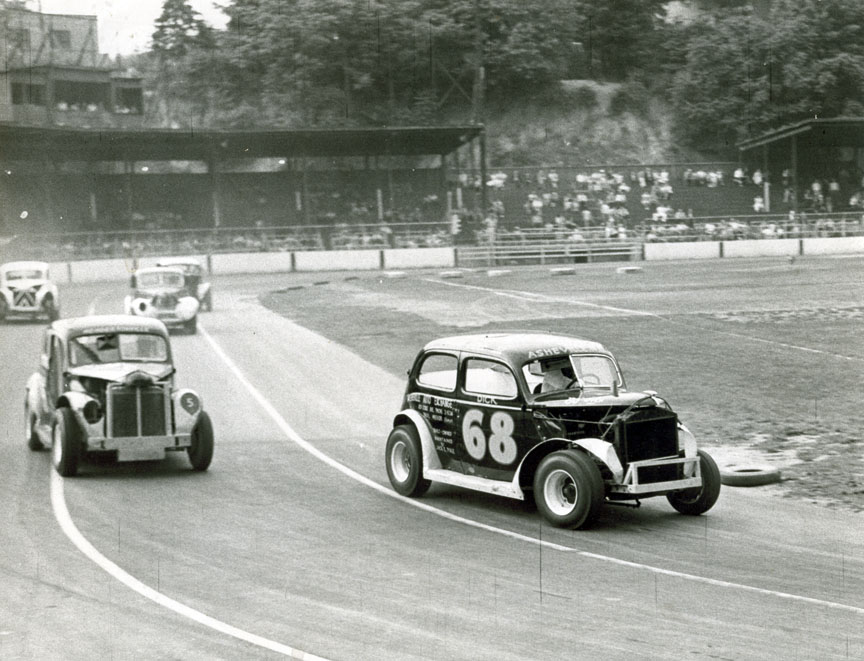 On this day in WNC history: In a previous post, we covered McCormick Field's opening as a baseball stadium, but did you know it has served another sport as well? On this day in 1956, engines roared and 4,000 fans cheered as stock cars first took to the quarter-mile McCormick Field Speedway.
In 1955, the Tourists and the Negro League Asheville Blues baseball teams folded and Asheville promoters quickly seized the opportunity to host increasingly popular stock car racing. Promoter Jim Lowe was still working to construct the asphalt raceway the day prior to its opening, installing a concrete barrier around the track and adding wire netting to protect the crowd. The pit area was built behind the third base bleachers, and the outfield hill was dug back. Intended to be a multi-use venue, the track had temporary barriers in front of the dugouts so that baseball could still be played, however driver Lee Petty ran into the first base dugout in a 1957 race. Drivers also had to navigate a treacherous turn around home plate.
The inaugural race featured NASCAR's second-tier Sportsman series including series stars Junior Johnson, Fireball Roberts, and Ralph Earnhardt. During the event, the track came apart in several places, including a six-inch-deep rut that made the right field turn almost impassable. Four of the nine racers, including Roberts and Johnson, crashed into the concrete barrier. The winner of the 40-lap event was Ned Jarrett, a future NASCAR champion. After repairs, local racers competed over the next two years at the speedway, but NASCAR's top Grand National series only raced here once, in 1958 – the last year the track operated. In 1959 the Tourists returned, and the speedway faded into the record books as a fun but impractical experiment.
Dick Plemmons leads at McCormick Field Speedway, courtesy Buncombe County Special Collections, Pack Memorial Library
Banjo Matthews drives car X, courtesy Buncombe County Special Collections, Pack Memorial Library
Asheville Citizen-Times, Jun 17, 1956