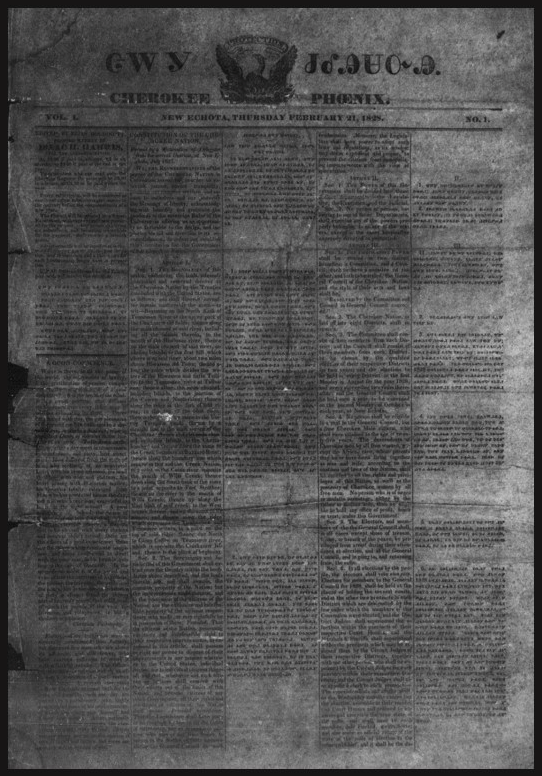 On this day in WNC history: On this day in 1828—the year the Cherokee Nation ratified a constitution, and seven years after Sequoyah completed his syllabary of the Cherokee language—the Cherokee Phoenix newspaper first appeared in circulation. This was the very first Native newspaper in North America.
Based out of the then Cherokee capital of new Echota, Georgia, the paper featured columns presenting news, commentary, religious or moral reflections, and official documents, written in both English and Cherokee. The paper was the brainchild of both the Cherokee General Council and its first editor Elias Boudinot—otherwise known as Buck Watie—and the pro-Cherokee missionary Samuel Worcester, who cast the type blocks for the Phoenix printing press. Offered on a sliding scale, with those only speaking Cherokee receiving discounts, the weekly newspaper tended to privilege the sections written in English, possibly owing to Boudinot's views on assimilation as a means of survival. The Phoenix initially circulated among Cherokee living in Georgia, North Carolina, Virginia, and Alabama, but was renamed the Cherokee Phoenix and Indians' Advocate in 1829, signifying its broadening scope and readership.
As the legal and local battles over Cherokee removal grew stronger in the early 1830s, Boudinot's opinions and editorials favored treaties and negotiated removal. The anti-removal Cherokee chief John Ross forbade Boudinot from advocating his positions, and Elijah Hicks replaced him as editor in August, 1832. The paper ceased publication in 1834 and the Georgia militia burned the press the next year. After the forced removal of the Cherokee to Oklahoma, the paper resurfaced again in two separate periods. Since 2007, however, it has again been renamed the Cherokee Phoenix, serving the Cherokee Nation, while the Cherokee One Feather has served the Eastern Band of Cherokee Indians since 1968.