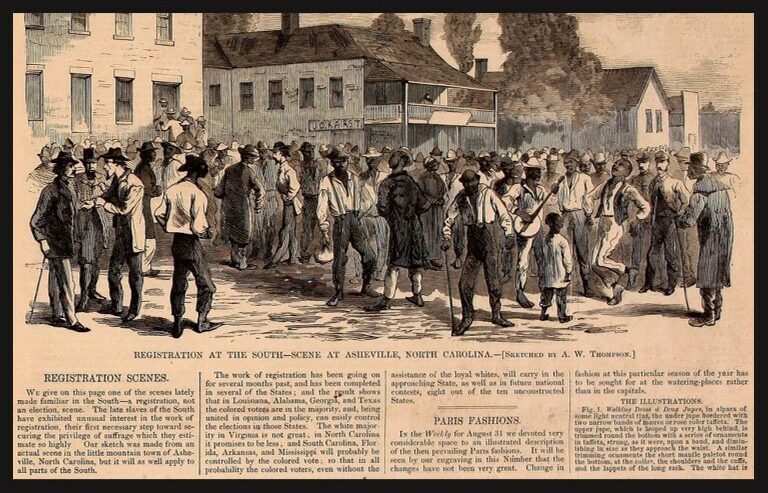 On this day in WNC history: Amid the charged climate of the Reconstruction period, the Asheville Election Riot occurred on this day in 1868. After mounting tensions between Black and white voters erupted in a flurry of gunfire, one Black man—James Smith—soon died while at least 18 other African Americans and 2 white men were wounded.
By 1868, large numbers of recently-freed African Americans registered to vote across the South. Here in WNC, they helped flip the state political landscape earlier in the same year, largely allying with white Republicans to elect Governor William W. Holden and to ratify a new state constitution. They also found protection in the federal Freedmen's Bureau as they exercised their new political rights and voice. By the time of the November general election though, conservatives were beginning to fight back against this change in extralegal ways as they lost their hold on state and regional politics at the polls.
Details about the November 3 violence are murky and largely come from white witnesses or politicized newspapers. Records indicate that early that day, a county clerk denied James Smith his right to vote because of a previous criminal conviction. Smith and a few other Black voters clashed with white men in the streets, and in the afternoon, a Black man named Silas reportedly voted for the straight Democratic/conservative ticket, much to the chagrin of other African Americans who confronted him. The coroner's report alleged that Smith threw a rock at Silas or his white protectors who began shooting. The Freedmen's Bureau was powerless to protect voters or restore order in the aftermath as federal troops withdrew from the state. While the federal government saw North Carolina's vote for Ulysses S. Grant and the turnout of Black voters as a mark of success, the KKK, which began organizing earlier that year, grew bolder and more active in the mountains after the Asheville election riot.
See Dr. Steven Nash's book Reconstruction's Ragged Edge for further reading.