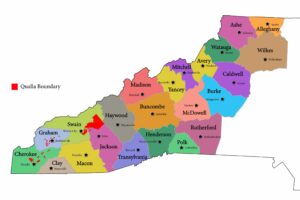 Western North Carolina is defined as much by the various chains and valleys within the Appalachian Mountains as it is by the various people here. The region contains large swaths of state and national forest lands and parks, including the Great Smoky Mountains National Park and Blue Ridge Parkway. It contains old rivers and old folkways, along with an increasingly large stream of transplants and temporary visitors.
Across the mountains, conditions range from the metropolitan Asheville to the sparsely inhabited rural communities in Clay, Swain, and Avery counties, for example. Asheville has long served as the unofficial capital of western NC, though its urbanity, industries, politics, cultural and racial demographics, and relatively flat geography differentiate it from the surrounding Buncombe County and larger region. Plenty of smaller cities also dot the landscape, from Hendersonville, Boone, Wilkesboro, and Waynesville to Sylva, Brevard, Morganton, Marion, and Franklin. Smaller towns like Rutherfordton, Tryon, Marshall, Cashiers, and Bryson City also serve as destinations or community centers.
Understanding this area, and all the unique people here, requires both historical context and a discarding of preconceived notions. The region's own heavy tourist marketing has often reinforced outside "hillbilly" stereotypes within the "Land of the Sky." Look only at the surface, and you run the risk of seeing the Appalachian region you expect to see; dig deeper, however, and you will find an ever-changing and varied range of places, people, culture, challenges, and opportunities. These links and resources should help you do just that.
The region also contains the Qualla Boundary and Cherokee, the home of the Eastern Band of the Cherokee Indians. A number of historically African-American and even modern Hispanic communities are scattered in key places throughout this region as well, each with their own backstories.